Positively Beautiful

by Wendy Mills
Published by Bloomsbury Publishing USA on March 3, 2015
Genres: Cancer, Diseases, Illnesses & Injuries, Family, Health & Daily Living, Love & Romance, Parents, Young Adult
Buy the Book • Goodreads

Jodi Picoult for teens meets Lurlene McDaniel. Beautiful written, beautifully moving, a vivid contemporary story of a girl's unusual but terrible dilemma - and the love story that springs from it.

16-year-old Erin is a smart if slightly dorky teenager, her life taken up with her best friend Trina, her major crush on smoky-eyed, unattainable Michael, and fending off Faith, the vision of perfection who's somehow always had the knife in for Erin. Her dad, a pilot, died when she was very young, but Erin and her mom are just fine on their own.

Then everything changes forever one day after school when Erin's mom announces she has breast cancer. And there's even worse news to come. Horrified, Erin discovers that her grandmother's death from cancer is almost certainly linked, the common denominator a rare gene mutation that makes cancer almost inevitable. And if two generations of women in the family had this mutation, what does that mean for Erin? The chances she's inherited it are frighteningly high. Would it be better to know now and have major preemptive surgery or spend as much life as she has left in blissful ignorance?

As Erin grapples with her terrible dilemma, her life starts to spiral downwards, alleviated only by the flying lessons she starts taking with grumpy Stew and his little yellow plane, Tweetie Bird. Up in the sky, following in her dad's footsteps, Erin finds freedom chasing the horizon. Down on the ground it's a different story, and facing betrayal from Trina, humiliation from Faith, and a world of disappointment with Michael, Erin knows she must discover the truth about herself. Sure enough, she's positive for the gene that's slowly killing her mom.

Suddenly, Erin's life has turned into a nightmare, and the only person she can truly talk to is a girl called Ashley who she meets online. But when, in a moment of madness, Erin flies away with Tweetie Pie to find her new friend, she finds herself on a journey that will take her through not only shock and despair - but ultimately to a new understanding of the true meaning of beauty, meaning, and love.


I am pleased to provide a Make it a Movie post as part of the Positively Beautiful Blog Tour!
You can join in the fun, too! Want to make a movie out of your favorite books? Feel free to do the same on your blog, and be sure to link your post in the comments below so that we can all visit! You are open to talk about any book out there in any way that you want. For example: Who would you have play the leads in the movie? Who would direct? Would it be animated or live action? What would the film poster look like? etc. (Don't forget to use the hashtag #MiaM when you share your post on social media and also link back to Bookiemoji!)
Let me know what you think of my cast in the comments below!

There is one specific element of Positively Beautiful that I sought to capture with this poster. Oddly enough, the image could be a dual representation of two separate themes, if you look close enough. It's is both a glorious sight to behold, as well as a dark and ominous mass on the horizon.
Needless to say, this particular plane was such an endearing "character" in the book….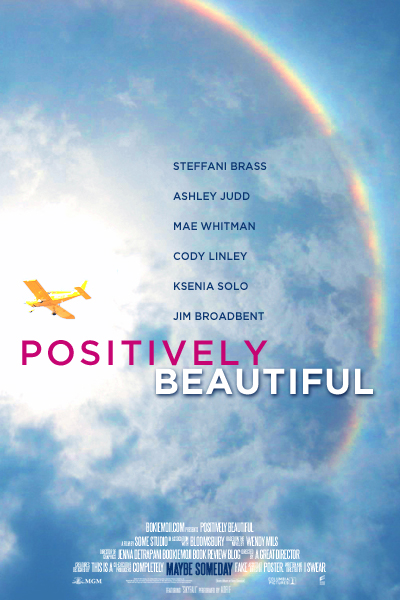 Erin Bailey – Steffani Brass

Erin is a young woman whose father passed away prior to the opening of the story. She is smart, bookish and loves both her mother and best friend, Trina, very much. She will soon learn a secret about her mother and herself that will turn her life upside down.
Steffani Brass has this "girl next door" look that I can't help but associate with Erin. She's appeared on numerous television shows, including ER, Friends, Malcolm in the Middle, That 70's Show, Two and a Half Men and Secret Life of the American Teenager. She has not taken many big screen roles, but her looks and personality have what it takes to play Erin.

Ms. Bailey – Ashley Judd

Ms. Bailey has been hiding a secret from her daughter for many years. Having found out that she has breast cancer… for the second time… she finally admits the truth to Erin. She deals with treatment, while still trying to be present in Erin's life.
Who hasn't heard of Ashley Judd? She's appeared in such films as Kiss the Girls, Double Jeopardy, Where the Heart Is, Divine Secrets of the Ya-Ya Sisterhood, Dolphin Tale and the Divergent series. I love, love, love seeing her playing motherly-type characters and so seeing her as Erin's mom would be a real treat.
Trina – Mae Whitman

Trina is Erin's BFF and Dorkster Twin for life. She's a quirky girl who treaats every day and every oufit as a new character, role and work of art. Erin and Trina are basically inseparable, that is, until she starts dating Chaz…
Mae Whitman is most recently known for her role in the YA novel-turned film The Duff. But did you know that one of her earliest roles was as the President's daughter in Independence Day? In addition, she is the voice of Tinker Bell in the Tinker Bell movies and starred in both The Perks of Being a Wallflower and Scott Pilgrim vs. the  World.

Michael – Cody Linley

Michael is the boy that Erin has been crushing on for, like, ever. The problem is that he is one of the most popular guys at school – with straight, dark hair and charcoal eyes. Only problem? He has a history with the ultra-popular Faith, a girl who could make Erin's life a living h-e-double hockey sticks.
Cody Linley has the popular guy appeal that I think Michael needs. He looks as though he could manage the "troubled boy" persona, as well, even though he would need to darken his hair to play Michael. Cody is best known for his recurring role on Hannah Montana. Ironically, he also starred as Ashley Judd's son, Brownie, in Where the Heart Is. In addition to multiple television appearances, he has been featured on Dancing With the Stars as the partner of Julianne Hough.
Faith – Ksenia Solo

Faith is the classic "most popular girl" at Erin's high school. As the ex-girlfriend of Michael, she has plenty of reasons to find fault with Erin, who has somehow recently caught his interest. But there is more than meets the eye to this mean-girl with the gorgeously sleek, raven-colored hair and sky-blue eyes…
Ksenia Solo definitely has the looks. Though she may be older, her roles in Black Swan, Lost Girl and Orphan Black prove that she has the youthful vitality and skill needed to pull this one off.

Stew – Jim Broadbent

Black Knife is a vigalante. He is out to stop criminals and magic-users in Skyvale. He is enemy of the Ospreys and all that they stand for…. or is he?
Jim Broadbent could play the perfect crotchety old man. This English actor is best known for his roles in Cloud Atlas, as Horace Slughorn in the Harry Potter film series, Moulin Rouge, Bridget Jones' Diary, Hot Fuzz and Paddington.
Ashley – ???

Ashley is Erin's online BRCA confidant and newest friend. She understand's Erin's fears of being susceptible to developing breast cancer. Ashley helps Erin keep a clear head and gets her through many, many struggles (even those non-health-related) in her life.

This is a difficult role to fill.
As a result, I would rather retain Ashley as an anonymous online persona.


This is a US only giveaway for 1 hardcover
of POSITIVELY BEAUTIFUL by Wendy Mills.
Entrants must be 13 years or older. Void where prohibited.
a Rafflecopter giveaway

POSITIVELY BEAUTIFUL Blog Tour Schedule
March 2 – Jenuine Cupcakes
March 3 – YA Bibliophile
March 4 – Book Revels
March 5 –  The Hardcover Lover
March 6 – Bookiemoji
March 9 – Dana Square
March 10 – Lovin Los Libros
March 11 – The Book Belles
March 12 – Adventures in Reading
March 13 – Who Ru Blog

So… What did you think of my poster and casting choices?
If you decide to make your own post this week, please add
the URL in the comments below. (Please link directly to
the post URL and not your blog URL!)
Related Posts