Today we are happy to have an interview with the author of PRETENDING TO BE ERICA! I read this book in June and completely loved it. I was really intrigued by the premise of this teen girl pretending to be someone she wasn't and where that would lead. I hoped it would be good but it turned out even better than I had hoped! I found this book hard to put down because of all the twists and turns that came along, and it's really engrossing.  I hope you guys have this one on you TBR or add it now, because you certainly want to read it!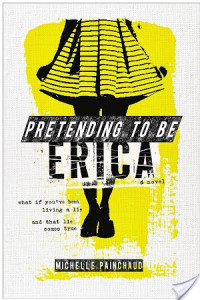 Pretending to Be Erica by Michelle Painchaud
Published by Penguin on July 21st 2015
Genres: Art & Architecture, Girls & Women, Law & Crime, Young Adult
Goodreads





We Were Liars meets Heist Society in a riveting debut!Seventeen-year-old Violet's entire life has revolved around one thing: becoming Erica Silverman, an heiress kidnapped at age five and never seen again. Violet's father, the best con man in Las Vegas, has a plan, chilling in its very specific precision. Violet shares a blood type with Erica; soon, thanks to surgery and blackmail, she has the same face, body, and DNA. She knows every detail of the Silvermans' lives, as well as the PTSD she will have to fake around them. And then, when the time is right, she "reappears"—Erica Silverman, brought home by some kind of miracle. But she is also Violet, and she has a job: Stay long enough to steal the Silverman Painting, an Old Master legendary in the Vegas crime world. Walking a razor's edge, calculating every decision, not sure sometimes who she is or what she is doing it for, Violet is an unforgettable heroine, and Pretending to be Erica is a killer debut.

B: What inspired this book and main character?
M: Vegas, mostly! It's such an interesting city with a huge dichotomy – lots of money in a barren desert.
B: Were there any scenes that you had to cut that you had a hard time letting go of?
M: Oh yeah. I had to cut a bit where Erica and her friends reminisce over dressing up as the Sailor Scouts for Halloween when they were little.
B: Do you have a character that you can most relate with?
M: I think I relate with Taylor a lot – I was a very angry teenager! Not quite at her level, though.
B: What is the weirdest thing you've had to do/find for book research?
M: I had to research how long it takes for a child's body to mummify. A boy I was interested in saw my search history and gave me an extremely weirded out look lmao.
B: If you could write a book with anyone, who would it be?
M: Crap!!!! This is an EXTREMELY HARD QUESTION! I don't think many writers I admire would want to write with me. Also I'm a lone wolf and must have everything My Way when writing. I don't play well with other writers creatively because I'm a huge dumb baby.
B: You can eat ONE food for the rest of your life…..what is it?
M: Smoke salmon. Mmmm!!
B: What is your favorite hobby, outside of reading and writing?
M: Does cat-poking count? No? Video games, then, and baking!


Pretending to Be Erica was definitely one of my favorite mystery/thriller style books this year! Do you plan to read it?
Related Posts