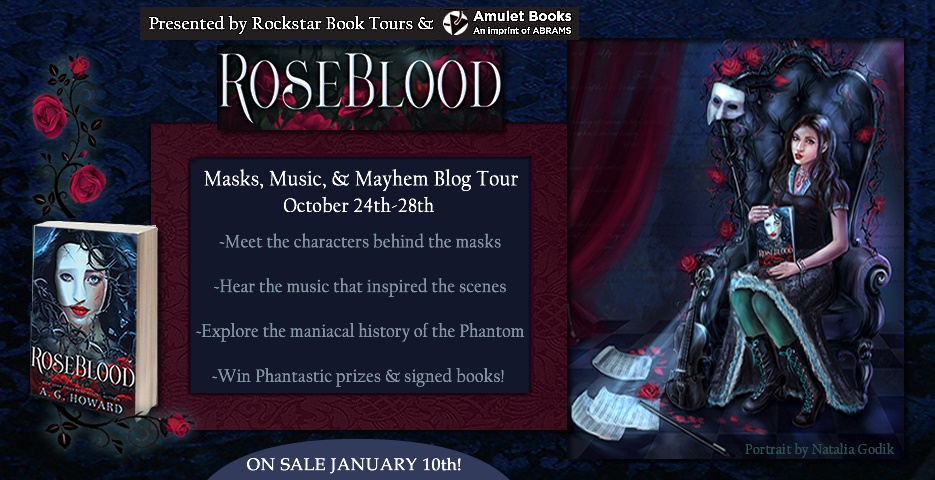 Welcome to the final stop on the RoseBlood Masks, Music, and Mayhem blog tour!
Before I let A.G. Howard take over I'm going to share a little info about her newest upcoming book, which looks PHENOMENAL!! Also there are TWO amazing giveaways below for you guys to enter, please make sure to follow special instructions for the INTL giveaway!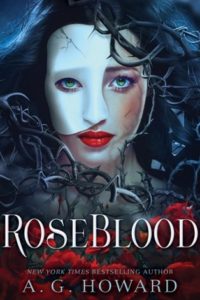 Roseblood by A.G. Howard
Published by Amulet Books on January 10th 2017
Genres: Adaptations, Europe, Fairy Tales & Folklore, Fantasy, General, People & Places, Young Adult Fiction
Buy the Book • Goodreads

In this modern day spin on Leroux's gothic tale of unrequited love turned to madness, seventeen-year-old Rune Germain has a mysterious affliction linked to her operatic talent, and a horrifying mistake she's trying to hide. Hoping creative direction will help her, Rune's mother sends her to a French arts conservatory for her senior year, located in an opera house rumored to have ties to The Phantom of the Opera.

At RoseBlood, Rune secretly befriends the masked Thorn—an elusive violinist who not only guides her musical transformation through dreams that seem more real than reality itself, but somehow knows who she is behind her own masks. As the two discover an otherworldly connection and a soul-deep romance blossoms, Thorn's dark agenda comes to light and he's forced to make a deadly choice: lead Rune to her destruction, or face the wrath of the phantom who has haunted the opera house for a century, and is the only father he's ever known.

Yesterday I shared some exclusive info about the outside of RoseBlood, so today, I'd like to share a peek at the inside.


However, I'm talking about more than just the beautiful interior art and ink color. Today, my publisher and I are revealing the entire first chapter, and we're going to have some fun with it. 

Here, on Bookiemoji's blog, you'll find the first half of the chapter. But, if you want a shot at the final INTL prize pack offered today, you'll have to answer a question to unlock the rafflecopter. And that answer can only be found in the second half of the chapter.

There's the fun part. It's a scavenger hunt, of sorts. To the read the final half and find the answer to the question, you'll need to visit PiqueBeyond. 

What is PiqueBeyond you ask? It's a new YA website launched by my publisher, Abrams Books. Here's a better description:
Pique is all about going beyond the book, highlighting exclusive excerpts and quotes from new and upcoming titles, peeling back the cover to offer behind-the-scenes glimpses. Is your interest piqued? Learn how books are made, what the authors were thinking, and how it all comes together by visiting the site today at piquebeyond, or follow them on Twitter and Instagram at @piquebeyond!
So now that you've been introduced properly to both my hosts, let's get to the good stuff. 
RoseBlood, chapter 1:
Overture
"The opera ghost really existed . . ."
~ Gaston Leroux, The Phantom of the Opera
At home, I have a poster on my wall of a rose that's bleeding. Its petals are white, and red liquid oozes from its heart, thick and glistening warm. Only, if you look very close, you can see the droplets are coming from above where a little girl's wrist—camouflaged by a cluster of leaves—has been pricked by thorns as she reached inside to catch a monarch.
I used to wonder why she risked getting sliced up just to touch a butterfly. But now it makes sense: she wanted those wings so she could fly away, because the pain of trying to reach for them was more tolerable than the pain of staying grounded, wherever she was.
Today, I embrace that child's perfect wisdom. What I wouldn't give for a set of wings . . .
***
On the other side of the limo's window, a gray sky looms above thickly woven trees lining the country road. The clouds heave like living, breathing creatures, and raindrops smack the glass.
Not the ideal Sunday afternoon to be driven along the French countryside, unless I were here for a vacation. Which I'm not, no matter how anyone tries to spin it.
"The opera house has a violent history. No one even knows how the fire started all those years ago. That doesn't bother you?" I mumble the words beneath the hum of the motor so our driver won't hear. They're for Mom's benefit—at the other end of the back seat.
Mom bounces as the tires dip into a deep puddle while turning onto a dilapidated road of mismatched cobblestones and dirt. Mud splashes across the window.
"Rune . . . you're understandably predisposed to hate any building that has suffered a fire. But it's a fear you need to outgrow. The eighteen hundreds were a long, long time ago. Pretty sure by now, all the bad 'karma' is gone."
I stare at the privacy screen separating us from the uniformed man at the steering wheel, watching the wipers slash through the brown muck on the windshield with a muffled screech as they clear a line of vision.
Mom uses the term karma like it's a four-letter word. I shouldn't be surprised at her cynicism. She's always had a different view on Dad's heritage than I have. She thinks my anxiety stems from Grandma Liliana's impact upon our lives. That my grandmother's actions and accusations compounded the gypsy superstitions my dad had already imprinted on me, and they've affected how I see the world. Mom's partly right. It's hard to escape something so deeply ingrained, especially when I've seen proof of otherworldly things, having been possessed most of my life.
"Six weeks till the end of October," I continue to bait. "And I'll be spending it at a school haunted by a phantom. Things don't get any more Halloween than that."
"A phantom?" A tiny wrinkle bridges Mom's furrowed eyebrows.
"Are we on that again? Your life isn't a Broadway musical. This place isn't anything like the one in the story. Leroux's Opera Populaire was fashioned after the Palais Garnier in the city. You should know that, considering you've read the book at least three times now."
I grip the door panel to brace myself against another dip in the road. If she thinks I'm going to just ignore what I found on the underground RoseBlood forums, she's wrong. It's the whole reason I checked out Gaston Leroux's novel from the library a few weeks before we left in the first place. Although my reading the book so many times had more to do with the story itself—a mysterious composer using his unnatural gift of music to help a girl find the power in her voice.
"You saw the discussion," I say. "The blueprint for Garnier was inspired by a building once owned by an eccentric Parisian emperor in the eighteenth century. A private opera house set out in the country called Le Théâtre Liminaire. AKA: my new school. The Liminaire is rumored to be where the phantom legend first originated." I scroll through my recent searches on my phone, then hold up the screen so Mom can see the text alongside a morbid and lovely illustration of a caped man in a half mask holding up a bloody rose. "So you're right. I'm not stepping into a musical. It's a horror story. With a side of obsession and gore."
We hit two bumps in a row this time, nearly slamming our heads on the limo's cushioned ceiling. An irritated puff of air escapes Mom's lips, though I'm pretty sure it's directed at me and not the driver. "I told you those forums are nothing more than wannabe students who were turned down by admissions. People say outrageous things when they feel slighted." She opens the school's pamphlet for the twentieth time. "According to the brochure, post-renovation, most of the opera house isn't even the same anymore. Totally different place."
I nibble on the end of my braid. "It just doesn't feel right. Why did it take over a hundred years for anyone to rebuild or inhabit that place again?"
Mom presses the brochure to her thigh, signaling the end of our debate. "Just quit being so negative and focus on the positive. They've had a lot of rain here, so the leaves are changing early. Look out your window and enjoy the beginning of fall. That should remind you of home."
I glance at my lap and make a marked effort not to see the jeweled leaves: the browns and oranges, the yellows as bright as the dandelions that overtake my flowers every spring until I make my way out with a bucket and spade to dig them up. I'd rather not be reminded of what I'm missing at home right now, or of what I'll be missing in six months when warm weather settles in Harmony, Texas, and I'm not there to take care of Dad's garden.
Gardening is one of the two things that reminds me most of him. I inherited his green thumb, but also his talent for music. Although I could never master the violin like he did. My instrument is something entirely different, and it masters me. Which is the real reason I'm being sent away, although Mom won't admit it.
I release my braid. It drapes across my left shoulder, the end tapping the belt loops on my jeans in time with the car's movement. I tug the silvery ribbons woven within, relieved I plaited the unruly waves this morning before our shopping spree. Otherwise, I'd have no control over them in this dampness. Pulling my handmade knitted cap lower, I wish I could disappear inside.
If I were going anywhere but a music conservatory, I'd be more cooperative. Something happened in Harmony recently . . . something I have reason to run from. Something Mom doesn't even know about.
But to send me to RoseBlood? She's so desperate to fix me she hasn't stopped to consider the hell she's sentencing me to.
"They found a skeleton in the deepest basement, floating in the water. A skeleton, Mom. Do I really need another reason to be scared of water? This weather . . . it's an omen."
"Right," Mom scoffs. "Any minute you'll start preaching about auras and visions."
Tension knots in my shoulders. My dad and my grandma spoke of auras a lot, as if they could see them. And since I see rainbows when I sing, I used to think that ability passed on to me. There was a time I was convinced—if I focused hard enough—I could see halos of color around other people's bodies. I made the mistake of telling Mom once. She took me to the eye doctor, and I ended up recanting the claim in order to get out of wearing glasses I knew I didn't need. Now, I've convinced myself to stop looking for them. It's not worth the hassle or the confusion.
"Consider this," Mom continues, "every time you fall back into her way of thinking, you give her power over your life." Mom's voice falters on the obvious effort not to mention my grandma's name. "I know she's working to be a better person, so we'll cut her a little slack. She talked your aunt into paying for your tuition. The least we can do is let her try to make amends since she's dying. Just don't let her get inside your head again."
I press my lips tight. Suffering from congestive heart failure has to be horrible and painful, and I should at least feel something for Grandma Lil. But I remember images of my black hair swirling in dark, deep water as I tried to escape the wooden crate keeping me submerged; I remember her wrinkled, weathered hands on the other side of the planks tightening their grip to hold me under. And because of that, any sympathy eludes me.
I shudder. Yeah, Grandma's got a lot to make amends for, no doubt…


AND, there you have the first half. Rune's grandmother has played a very unsettling role in her life, which leads to the question that you need to answer to unlock the INTL rafflecopter below.



Both Giveaways are Tour Hosted.
Please answer question on the RAFFLECOPTER not in comments!
The question is: Â 


What did Rune's grandmother do at Rune's second-grade Valentine's Day party?
To read the last half and find the answer, head over to the special RoseBlood page at PiqueBeyond. Then come back over here and enter the INTL rafflecopter for a chance to win the prize pack pictured below: 


Signed Arc + Collectible Mask
Super Secret Phantom-themed Prize
US Only Giveaway
Good luck to everyone! Hope you enjoy the chapter, and thanks for taking part in the tour. Don't forget to watch for RoseBlood to hit shelves January 10, 2017!


For a little added fun before you go, check out the Roseblood trailer:

Follow along on the tour and enter the other amazing giveaways!
10/24/2016-Â Mundie Moms–Â Spotlight
10/24/2016-Â Stories & Sweeties–Â Guest Post
10/24/2016-Â Adventures of a Book Junkie–Â Review
10/25/2016-Â Once Upon a Twilight–Â Spotlight
10/25/2016-Â Two Chicks on Books–Â Guest Post
10/26/2016-Â Tales of the Ravenous Reader–Â Spotlight
10/26/2016-Â Seeing Double In Neverland–Â Guest Post
10/27/2016-Â BookHounds YA–Â Review
10/27/2016-Â Dark Faerie Tales–Â Guest Post
10/28/2016-Â Fiktshun–Â Review
Related Posts