My review of Wintersong by S. Jae Jones is going to be a bit unique, as I am tired of the typical review format. Therefor, for today's blog tour post I am compiling a list of items that you are sure to look forward to in this magical and sensual retelling of the story about everyone's favorite trickster, the good ol' Goblin King.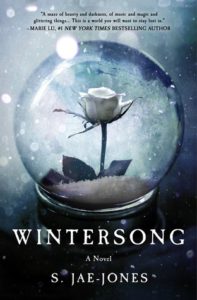 Wintersong by S. Jae Jones
Published by St. Martin's Press on February 7, 2017
Genres: Adaptations, Dark Fantasy, Fairy Tales & Folklore, Fantasy, Fantasy & Magic, Historical, Music, Retellings, Romance, Young Adult, Young Adult Fiction
Source: eARC from Netgalley

I received this book for free in exchange for an honest review. This does not affect my opinion of the book or the content of my review.
Beware the goblin men and the wares they sell.

All her life, nineteen-year-old Liesl has heard tales of the beautiful, mysterious Goblin King. He is the Lord of Mischief, the Ruler Underground, and the muse around which her music is composed. Yet, as Liesl helps shoulder the burden of running her family's inn, her dreams of composition and childish fancies about the Goblin King must be set aside in favor of more practical concerns.

But when her sister Käthe is taken by the goblins, Liesl journeys to their realm to rescue her sister and return her to the world above. The Goblin King agrees to let Käthe go—for a price. The life of a maiden must be given to the land, in accordance with the old laws. A life for a life, he says. Without sacrifice, nothing good can grow. Without death, there can be no rebirth. In exchange for her sister's freedom, Liesl offers her hand in marriage to the Goblin King. He accepts.

Down in the Underground, Liesl discovers that the Goblin King still inspires her—musically, physically, emotionally. Yet even as her talent blossoms, Liesl's life is slowly fading away, the price she paid for becoming the Goblin King's bride. As the two of them grow closer, they must learn just what it is they are each willing to sacrifice: her life, her music, or the end of the world.

Top 5 things to look forward to in Wintersong.
ONE: Â You want goblins? You've got goblins…
…and they will definitely make you think of this:
Those little guys are the biggest tricksters in all the best ways possible.
TWO: The Hair.
Who will remind you of the babe? Well, this Goblin King will certainly remind you of the babe. And his hair has the power of voodoo.
The physical descriptions of the Goblin King are like invoking the spirit of Bowie himself. Little room is left for the imagination – THIS is definitely him. (I feel so guilty. Is it too soon to swoon for him all over again?)
THREE: As The World Falls Down…
This book is NOT for a younger teen audience. Unless parents are okay with their young readers to experience first love (or lust) and all that comes with it. Wintersong takes everything we swooned over in the Labyrinth ballroom scene and amplifies it times 100. Think: A Court of Thorns and Roses plus A Court of Mist and Fury… and then multiply that. You'll be spinning in a glass daydream bubble of romance faster than you can say "Hoggle".
FOUR: The Music.
Well, yes… there is music, but not exactly in the sense that you're thinking. There are no singing and dancing orange dudes with removable heads (who was not totally creeped out by that scene as a child??). Nor does the Goblin King have his share of solos…
Instead, music is what moves our characters. "Music" in a more classical sense. Not ballads or Bowie synth rock. Music is present on nearly every page, music is what this story is centered around. Put words to the music and perhaps it'll have you dance magic dance. Especially since it is also what seduces our main characters.
FIVE: You saw this one coming… Admit it.
Yes. You will see the return of… the… well, you know.
Leave me a note in the comments if you truly do know what I mean.


What is your favorite fairy tale or fantasy retelling?
Related Posts