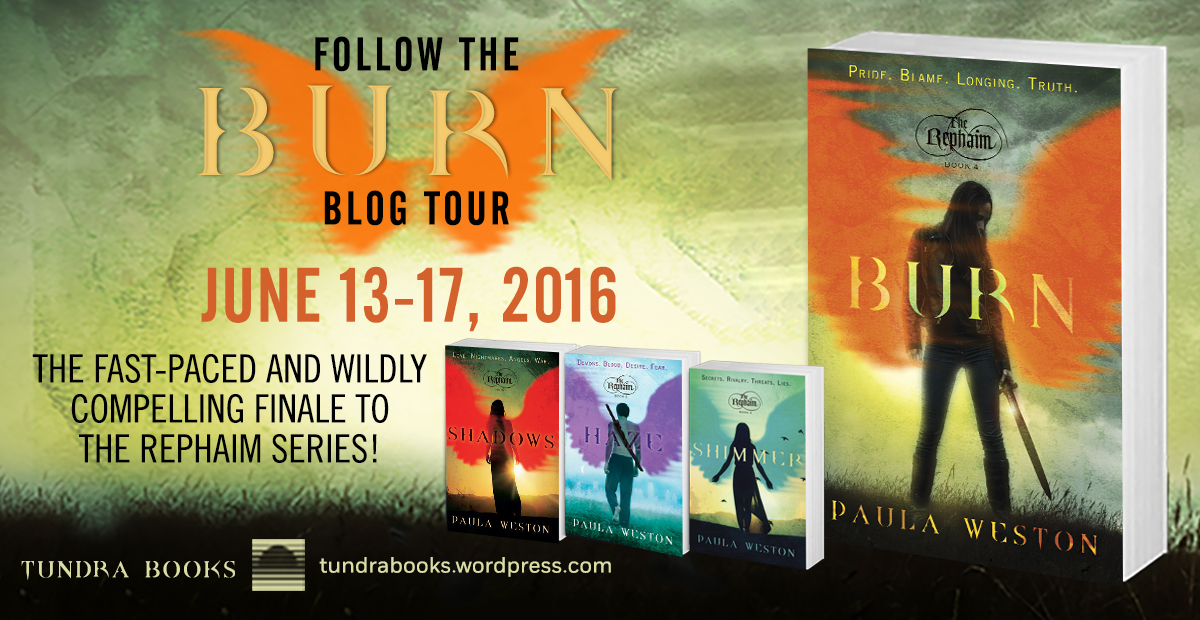 ** IF YOU HAVE NOT READ THE FIRST 3 BOOKS THIS REVIEW MAY CONTAIN SPOILERS**

Burn by Paula Weston
Published by Tundra Books on June 7th 2016
Source: Finish Copy from Publisher
Buy the Book • Goodreads






I received this book for free in exchange for an honest review. This does not affect my opinion of the book or the content of my review.
Suddenly, Gaby remembers everything.

For a year she believed she was a backpacker chilling out in Pandanus Beach. Working at the library. Getting over the accident that killed her twin brother.

Then Rafa came to find her and Gaby discovered her true identity as Gabe: one of the Rephaim. Over a hundred years old. Half angel, half human, all demon-smiting badass—and hopelessly attracted to the infuriating Rafa.

Now she knows who faked her memories, and how—and why it's all hurtling towards a massive showdown between the forces of heaven and hell.
More importantly, she remembers why she's spent the last ten years wanting to seriously hurt Rafa.

FINALLY.
I finally have all the answers to all the things I've wanted to know for 3 books now!
And the answers are good, y'all. So good.
I discovered this series in 2014 and became QUICKLY obsessed with it. I've had these burning questions since 2014 about why/how Gaby and Jude lost their memories, and what happened between her, Jude, and Rafa. I needed to know all the super important things and now that I do, I am 100% satisfied with the hows and the whys. I also was VERY thankful that Weston did not drag that part out through out the entire book and make me wait for a huge revel more towards the second half. Burn picks up IMMEDIATELY after Shimmer and dives right into the memories flooding back for Gaby, so I wasn't sent through a painful torture, which I really don't think I could have handled!
The characters were on point, as always. I was super obsessed with Gaby and Rafa and my shipper heart was just swooning and googly eyed with those two like they have had me for 3 books now. I seriously love them SO much.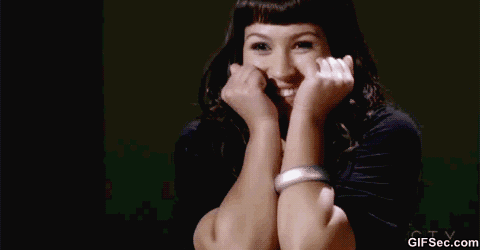 The build up between Rafa and Gaby is always done so flawlessly and I religiously shout at the book KISS, KISS and want to smash their faces together!
I finally felt like I really got to know Gaby and Jude so much better in this book with all the memories resurfacing and them sharing things with the other Rephaim really made me feel more connected to them and their story. I feel Gaby really finally found her true self in this book also and figured out what she truly wanted in the end.
I love that Weston brought ALL the Rephaim together in this book and really brought to light other people's pasts also, and tied up a lot of the secondary character's stories that have been hinted to along the way. I feel that everything came together really well and I especially like how it went where the Fallen is concerned, I wasn't really expecting the storyline to turn the way it did, but I really liked it.
My only complaint, and the reason why I went with 4.5 stars instead of 5, is because I wanted more action. I think it took until about 60% of the book to really get into action and the fighting, which I completely understood why (there was a ton of stuff to explore with the memories returning), but I really love the fight scenes in all the previous books so I really could have used more of that.
If you like a series filled with kick butt characters, swoony males, slow burn romance, and action I would definitely check this one out. The Rephaim Series is one of my favorites and the books just got better and better as I read them. I highly, HIGHLY recommend this series.
Just read it.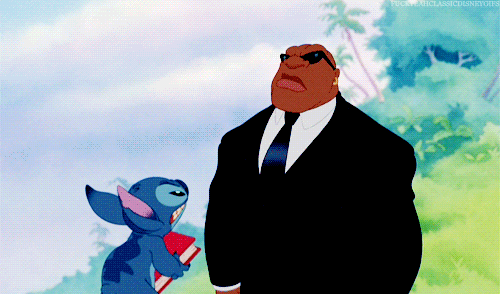 Have you tried these books out yet?
Related Posts