CAN YOU HEAR MY SQUEALS?? Seriously, Gemina released yesterday and I'm so excited that people have this book in their hands because it is SO good!!!! I'm doing a review for the blog tour today PLUS the publisher is letting us host a giveaway to give a copy of Gemina to one of our followers!!! Make sure to enter!!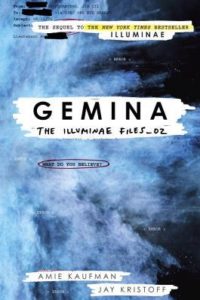 Gemina by Amie Kaufman, Jay Kristoff
Published by Random House Children's Books on October 18th 2016
Genres: Action & Adventure, Fantasy, General, Romance, Young Adult Fiction
Source: ARC from Publisher
Goodreads






I received this book for free in exchange for an honest review. This does not affect my opinion of the book or the content of my review.
Moving to a space station at the edge of the galaxy was always going to be the death of Hanna's social life. Nobody said it might actually get her killed.

The sci-fi saga that began with the breakout bestseller Illuminaecontinues on board the Jump Station Heimdall, where two new characters will confront the next wave of the BeiTech assault.

Hanna is the station captain's pampered daughter; Nik the reluctant member of a notorious crime family. But while the pair are struggling with the realities of life aboard the galaxy's most boring space station, little do they know that Kady Grant and theHypatia are headed right toward Heimdall, carrying news of the Kerenza invasion.

When an elite BeiTech strike team invades the station, Hanna and Nik are thrown together to defend their home. But alien predators are picking off the station residents one by one, and a malfunction in the station's wormhole means the space-time continuum might be ripped in two before dinner. Soon Hanna and Nik aren't just fighting for their own survival; the fate of everyone on the Hypatia—and possibly the known universe—is in their hands.

But relax. They've totally got this. They hope.

Once again told through a compelling dossier of emails, IMs, classified files, transcripts, and schematics, Gemina raises the stakes of the Illuminae Files, hurling readers into an enthralling new story that will leave them breathless.

This book. THIS. BOOK.
By the end my mind was seriously BLOWN.
OMG
So here's the deal. I LOVE Gemina, like deep to my core LOVE it, but I didn't love it as much as Illuminae, but let me explain why. When I picked up Gemina to read I wanted to go in blind, I didn't read the synopsis or even see what anyone thought about it. I wanted no information, well…that kind of bit me in the butt. You see, when I started reading I was under the impression that I was going to be diving right back in with Kady and Ezra and that whole crew, I didn't realize this was an entirely new set of characters and a different location. So, this led me to some huge confusion for a bit. LOL I was seriously doing a lot of "What is going on?" "Who are these people?" "Is my memory THIS bad?" So, for those of you who didn't know this little nugget of information…you're welcome!
Anyways, after that self-inflicted initial confusion, and getting to know Hanna and Nik I quickly became immersed into this universe again. Gemina had the same on the edge of my seat feel that Illuminae gave me. It was so hard to put down and once again I just seriously love the format these books are written in. I love how the art worked is incorporated and it just makes for the coolest reading experience.
Now I was super attached to Kady and Ezra in Illuminae, and I'm happy to say they do make an appearance eventually in this book, but man I loveeeeeee Hanna and Nik also. I really don't know if I could ever choose between these duos, they are just both awesome. Also I loveeeeeee how bad ass these ladies both are. Seriously. Bad. Ass.
Hanna is the station captain's daughter, and she comes across at first like a spoiled kid who is just concerned with her clothes and social life, but she is so much more. This girl seriously had me going nuts over her attitude and how bad ass she was through everything going on. She seriously stepped up hardcore when everything started going to shit on Heimdall.
Along with Hanna, is Nik. He is the member of a well known crime family, so this is the ultimate random pairing, but their dynamic works so well, I promise you will be yelling for these two to kiss very quickly! Nik is my favorite kind of male fictional character. Snarky, air of bad boy, but when it comes down to it he's a good guy with a great heart. Then there is this whole slow burn thing between the two and it's just my cup of tea man.
I will say I did miss Aidan. He comes in eventually, and honestly my fascination with him is still just as peaked as ever. I love "villainous" characters like him where I just can't decide if I love him or hate him. He's just so intriguing to me and I think after reading Gemina I've tilted more to the love side than hate. I do wish there had been more of him, but I definitely for-see him being a much bigger part of the next book.
The last 100ish pages of Gemina literally Blew. My. Mind. I still can't get over all the stuff that goes down and how damn genius it all was. I don't know if I can think of another book that just really made me have such a HOLY SHIT moment, like this one did. I went through so many emotions in the last bit of the book it was insane, and it leaves off on a hell of a note making me dying for the next book. DYING.
Overall, Gemina was an epic read. It did lose half a star for me, but like I mentioned it was mainly because I was so dang confused, which was 100% self inflicted. I can't wait to listen to the audios of these two back to back. If you haven't tried the audios you definitely should. The cast for Illuminae is one of the best I've ever heard.
Anyways, if you loved Illuminae you will not be disappointed by Gemina, but be prepared for loss of sleep because the damn thing is so hard to put down!



Publisher Hosted
US Only
Good Luck!
Related Posts