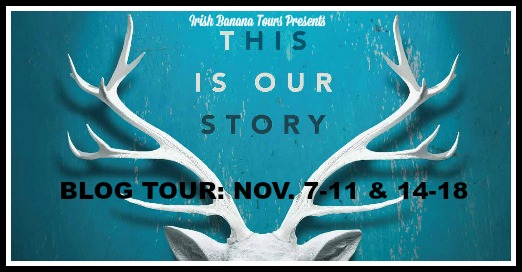 Good Morning! I hope everyone is having a good start of the week! Today I'm bringing you a review of This is Our Story, plus an awesome giveaway! Trust me when I say you want to enter, because this book is brilliant!

This is Our Story by Ashley Elston
Published by Disney Electronic Content on November 15th 2016
Genres: Law & Crime, Love & Romance, Mysteries & Detective Stories, Young Adult
Source: ARC from Publisher
Goodreads





I received this book for free in exchange for an honest review. This does not affect my opinion of the book or the content of my review.
No one knows what happened that morning at River Point. Five boys went hunting. Four came back. The boys won't say who fired the shot that killed their friend; the evidence shows it could have been any one of them.

Kate Marino's senior year internship at the District Attorney's Office isn't exactly glamorous—more like an excuse to leave school early that looks good on college applications. Then the DA hands her boss, Mr. Stone, the biggest case her small town of Belle Terre has ever seen. The River Point Boys are all anyone can talk about. Despite their damning toxicology reports the morning of the accident, the DA wants the boys' case swept under the rug. He owes his political office to their powerful families.

Kate won't let that happen. Digging up secrets without revealing her own is a dangerous line to walk; Kate has her own reasons for seeking justice for Grant. As she and Stone investigate—the ageing prosecutor relying on Kate to see and hear what he cannot—she realizes that nothing about the case—or the boys—is what it seems. Grant wasn't who she thought he was, and neither is Stone's prime suspect. As Kate gets dangerously close to the truth, it becomes clear that the early morning accident might not have been an accident at all—and if Kate doesn't uncover the true killer, more than one life could be on the line…including her own.

I absolutely loved Elston's The Rules of Disappearing duology, so when I saw she was writing another thriller/mystery I just had to have it, and I'm glad to say she did not disappoint!
Kate Marino is such a great character. I love how persistent she is with the case of the River Point boys and uncovering what happened to Grant. She comes across many obstacles and things that scare her about how the truth may turn out but she never gives up. She fights for the truth by herself for the most part, but she does have an awesome best friend, Reagan, who helps her out and trusts Kate when no one else does. I really love their friendship.
The River Point boys are pretty predominant in this book also, there is a little glimpse of back story for each boy, some more than others. I really liked seeing their stories unfold through out the book. There is also some POV switches for small glimpses of what the boy that shot Grant is thinking, and leads up to what really happened. I love that POV so much, it kept me on the edge of my seat and reading as quickly as I could.
The writing was excellent through out the entire book, and I absolutely love the format the story had. I love the switching POV mentioned above, plus loved getting to see the actual police recordings and interviews. It really made me even more caught up in the story and more in Kate's head.
The only reason I didn't give this book a 5 star was because there is a romance story line I just didn't connect to. That is solely a me thing, and I'm sure most will not be bothered and will be swept completely away by it, but I just wasn't. I will say that I liked how Elston brought the twist in with this romance, that was quite intriguing, and how it all played out, I just didn't emotionally connect.
As for the mystery part of the story, I was seriously left going back and forth between who I thought did it the entire time. I honestly didn't know who it was until the very end.
I would 100% recommend this to anyone looking for a read that will keep them on the edge of their seat, turning the pages until they are done.



3 Finished Copies
US Only


Do you like thrillers/mysteries?
Will you be adding This Is Our Story to your tbr?
Related Posts