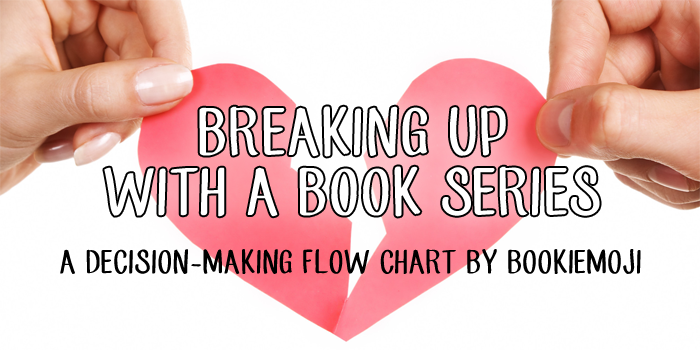 …Break ups are never easy. But did you know that they can be?
Have you ever found yourself falling out of love with a series? Perhaps, with the release of each new installment, you notice that you have grown apart… The feeling of love you once held (perhaps in book one) has waned to a dull glow (in book two) until it flickers away, never to be seen again. You find that you can't even muster up the excitement to trudge on when your long-forgotten lover returns for more, more… MOOORRRE!!
Sometimes we stick with the series we once loved out of a sense of obligation. We have a history with these books, so why not finish what we started, yes?
…WRONG. Much like we would with a jilted lover, why should we bother spending our hard-earned dollars on something that may only disappoint us in the future? Especially if that love has disappointed us already in the past, which some books are wont to do?
I frequently find myself falling down the "obligation" hole, continuing with series that no longer bring me much joy. For this reason I have created a chart to assist in knowing when to cut it off ("…It's not me, it's really is YOU") before I find myself with no money and plenty of stand-alone novels or far more interesting new series that (oh no!) I can no longer afford to enjoy.  Oh, wasted dollars, where did you go??? What love is this that has forsaken me???
You, too, can enjoy this handy-dandy  chart and start breaking things off today!
Just think of a series that you're in the middle of. Then start at the top of the chart and go from there.
Feel free to comment below. I'd love to hear of any successful break-up stories that result from its use!
Whew! Now don't you feel better?


What does the flowchart say about your most recent series?
Break up or keep on going strong?
What are some series you've recently broken up with?
Let us know in the comment below!
Related Posts