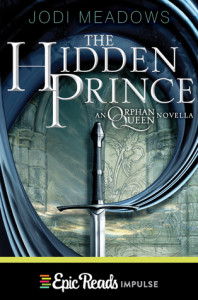 The Hidden Prince

by Jodi Meadows
Published by HarperCollins on June 2, 2015
Genres: Action & Adventure, Fantasy & Magic, Love & Romance, Young Adult
Buy the Book • Goodreads






The city of Skyvale is in trouble. Magic use is rampant. Crime is spreading. Told from the perspective of Tobiah, the crown prince with a dangerous secret, and set two years before the heart-racing action of The Orphan Queen, this 100-page digital novella brings to life one of Jodi Meadows's most beloved characters. Tobiah Pierce knows he is a spoiled, sheltered prince, and he's tired of it. His only chance for freedom is if his cousin, James Rayner, passes the trials to be one of his bodyguards.

But when Tobiah takes a rare opportunity to escape a courtly celebration and he witnesses a horrible—and magical—crime, he must make a momentous decision: return to the ignorance and comfort of the palace, or risk everything to discover the truth?

The Hidden Prince is the first of four prequel novellas that offer existing fans a deeper insight into a favorite character and the complex city of Skyvale, while new readers will find a stunning introduction to this rich world and the heart-pounding fantasy of the Orphan Queen series.Epic Reads Impulse is a digital imprint focused on young adult short stories and novellas, with new releases the first Tuesday of each month.
---

Pick up The Hidden Prince today for only $1.99!
Not being one who would typically purchase an e-novella (or any novella, for that matter), I couldn't resist obtaining The Hidden Prince immediately upon its release. This is a superb origin story that retains the high level of quality in writing, characters and setting that already graces the pages of The Orphan Queen book series. Better yet, it is an origin story about the character we all know and love, Black Knife.
One of my favorite things about this novella it that it brings out even more of the charming and complex personality that we discovered about Black Knife in the previously released full-length novel. It gives us a look into the background of the characters Lady Chey and Meredith… AND it also provides even more insight – from a different perspective – about the magic of the world.
If you do not wish to be spoiled about *who* exactly Black Knife is, I would recommend that you read The Orphan Queen first and make the discovery as it was originally intended. BUT, The Hidden Prince can, by all means, be read before you dive into The Orphan Queen. It's a good sampler for newcomers of the stellar writing and world that makes up this series. And Black Knife at a younger age? *double win!* I cannot say more, for that would mean to spoil identities and The Orphan Queen. Just know that many of the items that were hinted at in The Orphan Queen are addressed in this first prequel installment.
(Oh, and did I mention that there is a two-chapter excerpt for the final full-length book, The Mirror King? Yes, as a matter of fact, there IS. And it is TANTALIZING.)
I am hooked and am guaranteed to be purchasing each new novella in this prequel as they are released. (Perhaps we will receive more excerpts, as well!)


I'm so very thankful to have these novellas to bide our time until The Mirror King is released. Also thankful that they provide a quality story and further insight into the characters and world.
Five
little Black Knife

 emojis!

Download our exclusive Black Knife bookiemoji and wallpaper!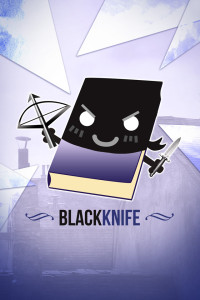 Download for:
desktop
1280 x 800 | 1440 x 900 | 1680 x 1050 | 1920 x 1200 | 2560 x 1400
iphone
1-3 | 4/4s | 5 | 6/6+
ipad/ipod
mini/1-2 | 3-4 | touch
samsung
s4/s5/note3


Now that you've read The Hidden Prince…
Enter to win one of FIVE e-book pre-orders of The Glowing Knight!
Open internationally to entrants aged 13 and older, as long as you have an e-reader.
Void where prohibited.

Share your excitement about The Hidden Prince in the comments below!
What do you think about our Black Knife bookiemoji?
Related Posts