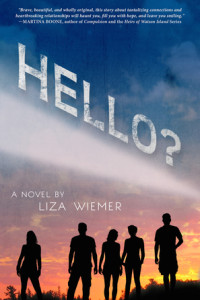 Hello? by Liza Wiemer
Published by Spencer Hill Contemporary on November 10th 2015
Source: Finish Copy from Publisher
Buy the Book • Goodreads

I received this book for free in exchange for an honest review. This does not affect my opinion of the book or the content of my review.
One HELLO? can change a life. One HELLO? can save a life.

Tricia: A girl struggling to find her way after her beloved grandma's death.
Emerson: A guy who lives his life to fulfill promises, real and hypothetical.
Angie: A girl with secrets she can only express through poetry.
Brenda: An actress and screenplay writer afraid to confront her past.
Brian: A potter who sets aside his life for Tricia, to the detriment of both.

Linked and transformed by one phone call, Hello? weaves together these five Wisconsin teens' stories into a compelling narrative of friendship and family, loss and love, heartbreak and healing, serendipity, and ultimately hope.

Told from all five viewpoints: narration (Tricia), narration (Emerson), free verse poetry (Angie), screenplay format (Brenda), narration and drawings (Brian).an).

Any of you that follow me probably already know that I'm SUPER selective when it comes to contemporary and what can win me over. I typically need to be really intrigued by the synopsis or hear that a lot of my trusted blogger friends reallyyyyyyy love the story. It just so happens that HELLO? is one that is getting MAJOR rave reviews from plenty of my blogger friends AND I already had it marked as a possible read because it sounded super intriguing. And I'm glad I gave this one a try because it definitely turned out to be great!
HELLO? Â is written in multiple points of view from five different characters, whose lives happen to connect by different circumstances. Hands down, my favorite characters in this book is Tricia and Emerson. I love their individual stories and how their paths crossed. The way the characters seemed to be drawn together and the whole thing with Tricia's grandma just made me so emotionally attached to these two. I was very eager while reading to get to their chapters the whole way through, I got attached very early on! I did feel that some parts of their story seemed a little rushed but I love them just the same, and probably would have been fine with the whole book just being from their PoVs.
Brenda is another character that I really love, and her story is one that really got to me emotionally. I like that she plays a pretty big role in the story overall. Angie and Brian are the other two PoVs written, I never got very attached to them, but with the way the writing was I don't think I was really meant to. They came across more as the secondary characters that just added to the story. Though I will say that I am a fan of Angie and Jordan.
I really like the way that some of the character's PoVs have different styles of writing. Angie's chapters are done poetry style and Brenda's are done like a movie script. I find it really intriguing and it captivates me more when books are done with different kinds of writing styles like that. I also like how real the writing felt. Everything was so descriptive, I felt like like I could really see Tricia's lighthouse, smell lavender, see Brian making things out of clay, and Brenda's pink hair! The writing definitely made me feel like I was part of the story.
This book is unique, full of emotion and intrigue. It was one that once I started, I couldn't put it down. I definitely recommend adding it to your TBR ♥


This giveaway is not hosted by me.
Good Luck 🙂

Have you ever met someone through some strange twist of fate?

Related Posts