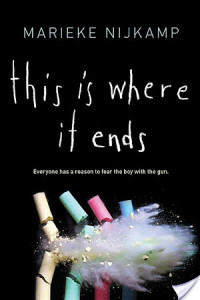 This Is Where It Ends by Marieke Nijkamp
Published by Sourcebooks, Inc. on January 5th 2016
Genres: Action & Adventure, Bullying, Social Issues, Survival Stories, Violence, Young Adult
Source: ARC from Friend
Goodreads




I received this book for free in exchange for an honest review. This does not affect my opinion of the book or the content of my review.
10:00 a.m.The principal of Opportunity, Alabama's high school finishes her speech, welcoming the entire student body to a new semester and encouraging them to excel and achieve.10:02 a.m.The students get up to leave the auditorium for their next class. 10:03The auditorium doors won't open.10:05Someone starts shooting.Told from four perspectives over the span of 54 harrowing minutes, terror reigns as one student's calculated revenge turns into the ultimate game of survival.

I really dislike writing negative reviews. It's my least favorite thing EVER.
This is the third book I've read recently that the review is going to lean towards the negative side, and personally I'm over it. So I'm just going to make this short and to the point on what worked and didn't work for me, because, well it's my blog and I do what I want!


Writing: The writing was really on point for the most part. All the scenes flowed well, and it was a smooth read.
Multiple Point of Views:Â I'm a sucker for multiple point of views and think a story like this definitely needs them, so I was very satisfied with that.
Topic:Â I really like the topic of this book and how it displayed how things can escalate quickly for a teen, this is definitely a subject matter worth reading about it.

Characters:Â IÂ didn't care for a single one honestly. This can sometimes be the downfall to switching point of views, sometimes they switch so often it's hard to get attached to a character. I feel that this was one of the issues, but then also some of the views I just didn't deem necessary and still don't think they were needed. I would have preferred to see the shooter's point of view in the place of another's, I think that would have really helped the story.
Convenience:Â There were A LOT of scenes that just seemed so convenient and not at all realistic. Â A lot of me going BUT WHY and WTH?!! Some of the scenes just seemed to be written to do a certain scene but it seemed so forced and just didn't make sense on why the characters would even do what they did.
I DIDN'T CRY: When I read the synopsis of a book and it tells me it's about a school shooting I expect to be upset. I expect tears and my emotions to be completely torn apart. I expect to be in the fetal position when it's all said and done dammit!! Well, I wasn't. Actually, if I'm being honest, and of course I am, by about 60% through I was really hoping I would suddenly become the speediest reader in the entire world and be at the end. 😐 I just got bored.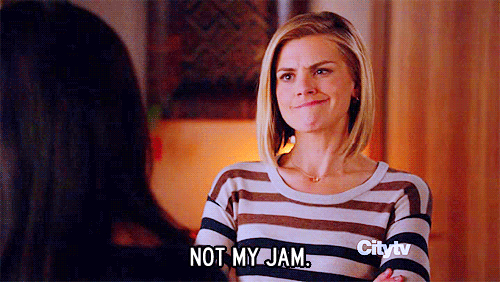 So yea. This one just did not work for me. It had all the right components but they just didn't piece together right.


I currently have a giveaway running for this ARC and two other 2016 ARCs over on our IG until 12/31.
Enter here.

How do you feel about books that touch on tough subjects like this?
Do you also have to be emotionally impacted for you to love the book?
Related Posts