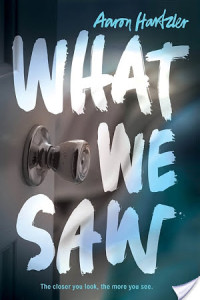 What We Saw by Aaron Hartzler
Published by HarperCollins on September 22nd 2015
Genres: Dating & Sex, Drugs, Alcohol, Substance Abuse, Peer Pressure, Social Issues, Young Adult
Source: Finish Copy from Publisher
Goodreads






I received this book for free in exchange for an honest review. This does not affect my opinion of the book or the content of my review.
Critically acclaimed memoirist Aaron Hartzler, author of Rapture Practice, takes an unflinching look at what happens to a small town when some of its residents commit a terrible crime. This honest, authentic debut novel—inspired by the events in the Steubenville rape case—will resonate with readers who've ever walked that razor-thin line between guilt and innocence that so often gets blurred, one hundred and forty characters at a time.The party at John Doone's last Saturday night is a bit of a blur. Kate Weston can piece together most of the details: Stacey Stallard handing her shots, Ben Cody taking her keys and getting her home early. . . . But when a picture of Stacey passed out over Deacon Mills's shoulder appears online the next morning, Kate suspects she doesn't have all the details. When Stacey levels charges against four of Kate's classmates, the whole town erupts into controversy. Facts that can't be ignored begin to surface, and every answer Kate finds leads back to the same questions: Who witnessed what happened to Stacey? And what responsibility do they have to speak up about what they saw?National Book Award finalist Deb Caletti calls What We Saw

After I finished reading WHAT WE SAW, I knew that this review would be more of a discussion than just a review. The book covers Rape Culture, which is such an infuriating topic. I won't lie, I stayed really pissed off the majority of this book, and while I typically wouldn't rate a book high when I stay mad and want to throw it while I'm reading it, this was completely different. I was so dang pissed off because of how the characters in this book react to the fact that someone is raped and then the fact that this actually happens in real life like this, this is a real thing, just pissed me off even more. I had to put it down several times because of how angry or just disgusted I was by the behavior of everyone. This being said, it is a REALLY important book. Someone out there is going to resonate with this story. Someone is going to draw strength from it. It needs to be read.
Just the other day I was scrolling through Twitter and this little survey popped in my feed posted by author, Courtney Stevens.
This really displays a lot of problems.
This is one of the reasons this topic needs to be approached, that it needs to be continuously talked about. 
One of the reasons that we have to have conversations with our teens, no matter how awkward it may be. 
This is real life.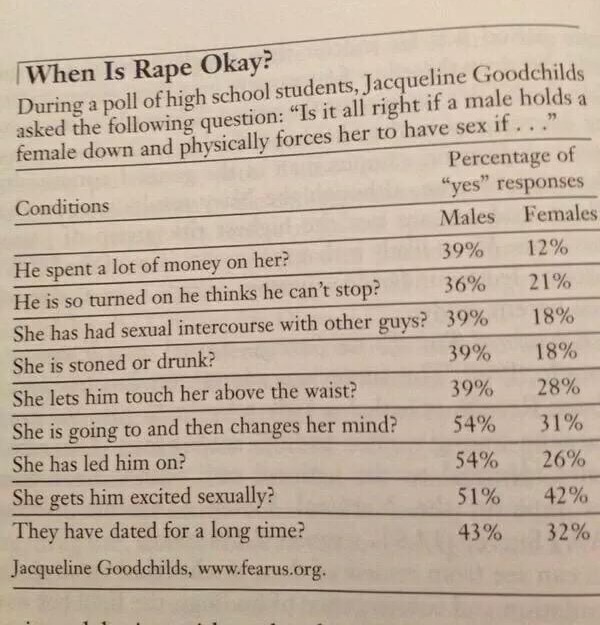 Let that sink in. 
Think about the fact that not one of these is at 0%.
That the percentages are as high as they are. 
Not one of these scenarios do even the females vote a unanimous No.
This deeply, DEEPLY disturbs me. In case anyone is wondering, the answer to this question is always no, any situation it is NO.
What We Saw had an interesting twist, I got to see the book from someone's prospective outside of the victim. I haven't read one like that so it was definitely a different approach. I'm going to go ahead and say, if you know that something happened to someone, it is not okay to pretend like you don't. It's not okay to just say "it's not my business".
Rape Culture continues to grow and will until people start standing up. Until people don't say "oh she had it coming to her" because of the clothes she wears or where she comes from-which is something that happens in this book. Victim shaming is never okay.
What We Saw also touched on how the rapist can be someone that comes from a good family, or someone popular which makes people automatically want to side with them. Rapists can come from good families. Rapists can be charming. Rapists can be anyone, just like a victim can be anyone.
If you would like to know more about the survey conducted above, please make sure to visit here.
If you are ever in a situation where you need help, no matter how scared you are, please reach out to someone. There is info on RAINN if you don't have someone you can talk to.
I also recommend these titles that focus on Rape Culture. I haven't read ALL THE RAGE yet, but I've heard good things about it. 


What books do you recommend that focus on Rape Culture? Have you read WHAT WE SAW?
Related Posts