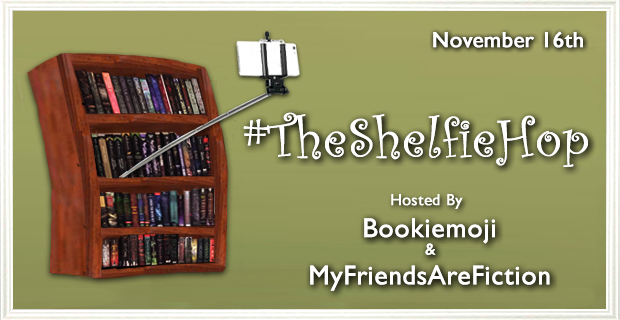 Over the weekend on Twitter Kristen @ My Friends Are Fiction started talking to folks about their favorite and most treasured book collections. So of course I jumped into the excitement and we developed #TheShelfieHop
We want YOU to share pictures of your shelves on November 16. It'll be a one day hop where everyone posts their pictures and we can all visit one another's blogs. If you would like to you can host a giveaway but that is not mandatory at all. The object of this hop is allow us all to share our passion- our books! If you don't have them on shelves feel free to share your favorite collections or book.
Also if you already have a commitment for that date, feel free to still join in, this does NOT have to be top post!
We are taking signups through this Google Form and we'll send over more information as well as banner, list of participating blogs and a reminder prior to the posting date. Sign ups will close at the end of October.
We also would love for you to help promote the sign ups, so we have a fun little giveaway for you guys!!

Choose 2 Books from my giveaway pile!! 

Who will be joining us?

Related Posts