I think most of you are dealing with SNOW DAYS right now! We got some where I live, but no where near what most of the East Coast is getting slammed with! I hope everyone stays warm and reads a ton during the winter weather!
January has been really good to me so far this year, especially when it comes to reading and bookmail. I haven't done a STS post all month, so my stacks have been acquired over the past 3 weeks. Also make sure to click the Twitter giveaway link right below for an awesome giveaway we are hosting right now! It is US Only and I'm sorry for that, we will be doing an INTL one again soon!

Tuesday:Â Top Ten Tuesday: Recent TBR Adds
Wednesday:Â Book Blitz: Shallow Graves (Giveaway)
Thursday:Â Book Review: Reign of Shadows
Twitter Giveaway:Â Mystery Box of YA Books

Stacking the Shelves is a weekly meme hosted by Tynga at Tynga's Reviews. Stacking the Shelves is all about sharing the books you are adding to your shelves, may it be physical or virtual. This means you can include books you buy in physical store or online, books your borrow from friends or the library, review books, gifts and of course eBooks.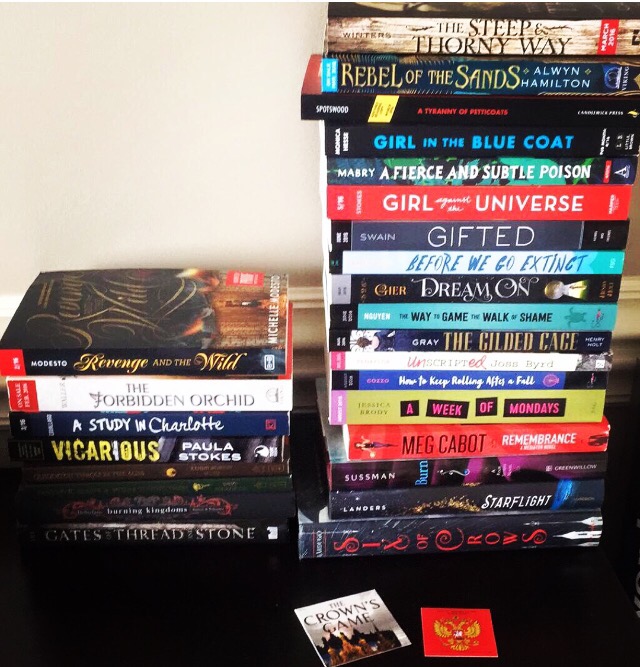 From Publisher:
The Steep and Thorny Way by Cat Winters | Rebel of the Sands by Alwyn Hamilton | A Tyranny of Petticoats by Jessica Spotswood | Girl in the Blue Coat by Monica Hesse | A Fierce and Subtle Poison by Samantha Mabry | Girl Against the Universe by Paula Stokes | Gifted by H. A. Swain | Before We Go Extinct by Karen Rivers | Dream On by Kerstin Gier | The Way to Game the Walk of Shame by Jenn P. Nguyen | The Gilded Cage by Lucinda Gray | Unscripted Joss Byrd by Lygia Day Penaflor | How to Keep Rolling After a Fall by Karole Cazzo | A Week of Mondays by Jessica Brody | Remembrance by Meg Cabot | Burn by Elissa Sussman | Starflight by Melissa Landers | Six of Crows by Leigh Bardugo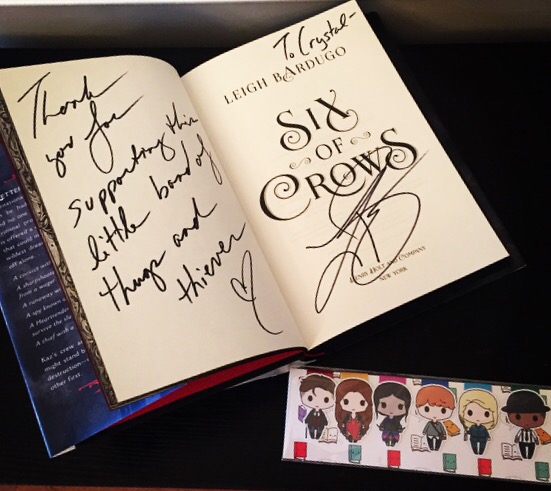 Since we participated in the blog tour for SIX OF CROWSÂ each participant got a personalized copy!!
Gift/Trade/Borrow:
(shown in first pic)
Revenge and the Wild by Michelle Modesto | The Forbidden Orchid by Sharon Biggs Waller | A Study in Charlotte by by Brittany Cavallaro | Vicarious by Paula Stokes | Quidditch Through the Ages and Fantastic Beasts and Where to Find Them by J.K. Rowling | Burning Kingdoms by Lauren DeStefano | Gates of Thread and Stone by Lori M. Lee
eARCs:
Down With the Shine by Kate Karyus Quinn | The Unexpected Everything by Morgan Matson | Dark Enery by Robison Wells | The Winner's Kiss by Marie Rutkoski
Purchased eBooks:
The Last Apprentice: Revenge of the Witch by Joseph Delaney | End of Days by Susan Ee | The Master Magician by Charlie N. Holmberg | Morrighan by Mary E. Pearson | Pretty Baby by Mary Kubica

Did you guys get some goodies this week? 
Read any of these new to me titles? 
Related Posts