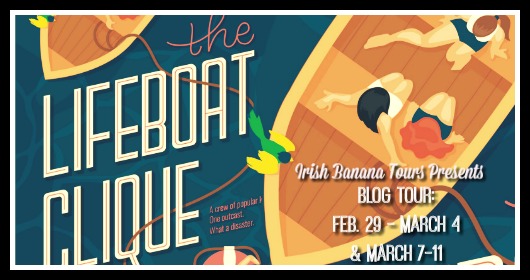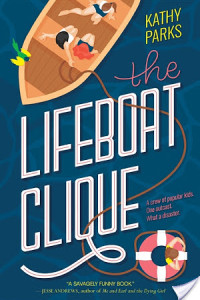 The Lifeboat Clique by Kathy Parks
Published by HarperCollins on March 1st 2016
Genres: Bullying, Dating & Relationships, Dating & Sex, Friendship, Social Issues, Social Themes, Young Adult
Source: ARC from Publisher
Buy the Book • Goodreads





I received this book for free in exchange for an honest review. This does not affect my opinion of the book or the content of my review.
Mean Girls meets Life of Pi in this darkly humorous, compulsively readable teen novel that's perfect for fans of Libba Bray and Andrew Smith. A hilariously dark and twisted story that sparkles with a remarkably fresh voice, The Lifeboat Clique is Kathy Parks's irreverent yet insightful novel about how to survive in the most unthinkable circumstances. Some people might say that Denver has a death wish. Why else would she dare to sneak into a Malibu beach party where she'd be surrounded by enemies?Oh yeah. Croix. Denver never thought in a million years he'd ask her out, but who is she to question this miracle of fate?Well, that isn't the only surprise fate has in store.During the party a tsunami hits the coast of California, and Denver and a handful of others escape death and are swept out to sea. Of course, one of her fellow castaways is none other than her ex-BFF, Abigail, who can barely stand the sight of her.Trapped on a small boat with the most popular kids in school and waiting to be rescued, Denver wonders what might kill her first—dehydration, sunstroke, or the girl she used to think of as a sister?

When I started this book I really wasn't sure what to expect. I knew it would focus on surviving a disaster but I wasn't sure what kind of spin it would take on the whole situation. At first, I really wasn't sure this was going to work for me. Denver being the outcast, her ex best friend, Abigail, now a mean girl was kind of putting me off. Mainly, it was Denver's thoughts about all the cool kids. Sometimes that stuff just has a hard time working for me because of all the judging going on, so I was a little concerned.
THANKFULLY, after getting past the introductions of who was who and what was what I was really immersed in the story. The book really gets into the tsunami part of the story quickly and things definitely get more interesting from there, because not only is there this disaster in present day, the author goes back and forth with the chapters to show all the disastrous things that caused the end of Denver and Abigail's friendship.
One of my favorite things is how this book focused so much on friendship, and how there is a great life lesson spun in the plot about forgiveness and friendship. Denver and Abigail had a long friendship that came to an end, after some really sticky circumstances, and I really like how their story was told.
 The characters are definitely the most important part of this book since they are just floating at sea for most of the story, and Parks wrote some really interesting characters with intriguing personalities. I really enjoyed Denver and her survival girl, I-know-a-little-bit-of-everything personality. I like how she stepped up and really helped everyone, even people she couldn't stand, to survive the tsunami. She is so smart and so fearless. While the others were trying to come up with a plan, she was taking action and figuring it all out. Even though Denver was tough, she also had a vulnerable side and I like how that was told in the story through past events.
I like a lot of the secondary characters, Trevor is such an oddball but I really enjoyed him. I really like Hayley, I like that the book showed another side to her than what is originally shown. She ended up being my favorite next to Denver. I do like Abigail, but she kind of irritated me a lot. She was very stubborn, to say the least, and BOSSY. LOL So we had issues a few times. Sienna was probably my least favorite and that's just because nothing really got in depth about her. She seemed to be basically what she was described to be, which wasn't all that great of a person.
Also, I honestly expected this book to be fluffy. I know it said survival was involved, but I didn't really think it would get too gritty or anything, but it kind of does. There is some real, gritty, down and dirty survivor stuff that goes on in this book and I was glad for that! I was worried that kind of stuff would be glossed over and I'm happy to say it definitely wasn't.
Overall, I definitely enjoyed this book and would recommend it. It was a fast and entertaining read that gives some great thought to friendship and I also think I have some really good survival skills in my back pocket now. ;P


This giveaway is not hosted by us.
US Only.
Good Luck ♥

Week 1:
Week 2:

If you were stranded out at sea what is one thing you hope you had on you?
Related Posts