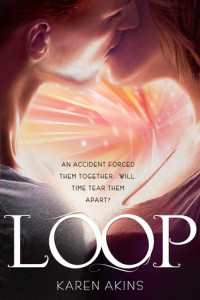 Loop by Karen Akins
Published by St. Martin's Griffin on October 21, 2014
Genres: Action & Adventure, Love & Romance, Mysteries & Detective Stories, Science Fiction, Time Travel, Young Adult
Source: eARC from Netgalley
Goodreads





I received this book for free in exchange for an honest review. This does not affect my opinion of the book or the content of my review.
At a school where Quantum Paradox 101 is a required course and history field trips are literal, sixteen year-old time traveler Bree Bennis excels…at screwing up.After Bree botches a solo midterm to the 21st century by accidentally taking a boy hostage (a teensy snafu), she stands to lose her scholarship. But when Bree sneaks back to talk the kid into keeping his yap shut, she doesn't go back far enough. The boy, Finn, now three years older and hot as a solar flare, is convinced he's in love with Bree, or rather, a future version of her that doesn't think he's a complete pain in the arse. To make matters worse, she inadvertently transports him back to the 23rd century with her. Once home, Bree discovers that a recent rash of accidents at her school are anything but accidental. Someone is attacking time travelers. As Bree and her temporal tagalong uncover seemingly unconnected clues—a broken bracelet, a missing data file, the art heist of the millennium—that lead to the person responsible, she alone has the knowledge to piece the puzzle together. Knowledge only one other person has. Her future self.But when those closest to her become the next victims, Bree realizes the attacker is willing to do anything to stop her. In the past, present, or future.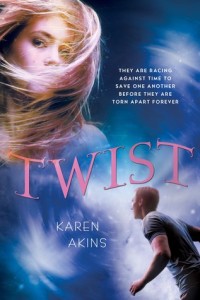 Twist by Karen Akins
Published by St. Martin's Griffin on April 7, 2015
Genres: Action & Adventure, Love & Romance, Mysteries & Detective Stories, Science Fiction, Time Travel, Young Adult
Source: eARC from Netgalley
Goodreads
Bree Bennis finally has it all—a non-comatose mother, an uber-hot (albeit anachronistic) boyfriend named Finn, and a newfound mission to protect the timeline from those who would skew it for their own gain. But when she leans over one day to smooch said boyfriend, her lips meet those of her arch-nemesis Wyck instead. The timeline has been altered, and Bree is caught in the crosshairs. But when she goes back to repair the damage, she is stopped by none other than her Future Self, who delivers an urgent message: Someone is kidnapping Shifters from the distant past. It's up to Bree to stop them. But first, she has to figure out who…and why.

To follow the trail of chronocrumbs, Bree reluctantly accepts her new undercover gig as Wyck's girlfriend. Everything goes spiffy until Finn shows up in the 23rd century on the eager arm of a gorgeous fellow Shifter. Blark. Even as Bree struggles with jealousy, she battles the nagging dread that Finn might be better off with someone less chronologically complicated. Her worst fear is confirmed when Finn becomes the kidnapper's next victim. As Bree zeroes in on the culprit, they unravel her life one timeline-change at a time. She realizes that she alone has the power to save herself and everyone she loves. But to do that, she may lose Finn forever.
---

Hands down, one of the best YA time-travel stories on the store shelves today, I couldn't help but review both LOOP and TWIST (a duology) in one single post. Like Lays potato chips, it'll be extremely difficult to stop after reading just one. Trust me.
If you like suspenseful stories with an endearing romance, plus teen characters who will both move you as well as entertain, you'll find a lot to like about this duology. It's the sort of series in which the reader is required to pay very careful attention to the details, yet it contains enough personality and thrills to keep the story from becoming too boggled down with information. Despite the extensive (and well-conceived) timey-wimey, twisty-turny events going on, both LOOP and TWIST manage to be fairly light and highly enjoyable reads. In many cases, these books are just plain funny, too! (See: pegamoo.)
I love that the author took advantage of the time travel component of her story to turn it into both a contemporary plus a futuristic/sci-fi-lite read. It allows for the reader to visit a place that is both familiar, plus a place that is new, unique, and makes you wonder about the future of our own society (minus the time travel elements). Part of the fun derives from the author's imagined details about her future world. For example, the main character, Bree, acts much like a modern, albeit somewhat advanced intellectually, teenage girl. But the fact that she's from the "future" (or is our present actually the "past"?) allows her to be different in many ways. Her mannerisms, her dialogue, the things she understands versus the things she does not are all a reflection of her time – a time that is creatively conceived by the author. Sure Bree is also stubborn, sure she makes rash decisions, and she also insists on working alone more than she actually should (which is such a cliche thing to be found in YA books) but despite her faults, Bree is still a kick-butt character and an outstanding female lead.
But what is the absolute best thing about these books? Finn. While it will likely be hard to imagine in the earliest scenes of LOOP, in my opinion the character Finn is the shining star of the series. He and his constant banter steal any scene in which he appears. It's almost a disappointment that his role is somewhat changed in TWIST, but the plot quickly reveals the whys and hows to the "situation", promptly placing Finn back in the spotlight where he belongs. In addition to the fact that Finn has (hands down) most of the best lines in the series, it's his character that provides the greatest emotional impact in the end.
For those who fear that book two, TWIST, might be dependent on a "love triangle" (thanks to that lovely blurb) – have no fear! The "triangle" is more of a "strategy" component more than anything. Without revealing any spoilers, I can say that Bree is always very clear about her emotions and her intentions. There will be no misleading here… except when it comes to that darn blurb.
LOOP and TWIST are ideal reads for fans of Unraveling and Unbreakable by Elizabeth Norris or A Thousand Pieces of You by Claudia Gray. While lighthearted at its core – and oftentimes downright hilarious – this series will provide plenty of logic and technology to keep even the most avid science fiction fans engrossed.
Favorite quotes:
"So who's this Kermit guy?"
"A singing frog puppet."
"That's bizarre."
"Hey. I saw a tiny cow fly by your window this morning. A cow."
"They're called pegamoos. It was someone's pet. They're notorious little escape artists."
"I want a pegamoo."
"You don't."
"I do."
"You can't house-train them."
"They fly."
"They bite."
"They fly."
"What if I told you they breathed fire?"
"They. Fly. Plus, I don't believe you."

---

"Or we could use my grappling hook." I pulled a metal tube, four inches long, from my pocket.
"Who carries a grappling hook?"
"Standard issue. A girl has to be prepared."

---

"Wow. What were the chances of breaking every law of quantum dynamics and locating the universe's most annoying person in one fell swoop?"

Four 
timey-wimey, twisty-turny

 emojis!
---


Let's talk in the comments below!
Related Posts