This meme is a way to discuss the books that have made their way to film, or to talk about the books we wish would be made into a movie. You are open to talk about any book out there in any way that you want. For example: Who would you have play the leads in the movie? Who would direct? Animated or live action? Etc.
This week my meme will focus on THRONE OF GLASS by Sarah J. Maas. Having just finished Heir of Fire this past weekend, I had to pay homage to the book that started it all. I see an epic, Game of Thrones-esque look to this film and I hope that my movie poster and cast selections below reflect that image. (Honestly, I was temped to place actual Game of Thrones actors into each role, but that would have been too cliche.)
Let me know what you think of my poster and dream cast in the comments!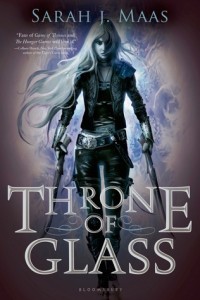 Throne of Glass by Sarah J. Maas
Published by Bloomsbury Publishing USA on August 7, 2012
Genres: Action & Adventure, Fantasy & Magic, Love & Romance, Young Adult
Buy the Book • Goodreads

In a land without magic, where the king rules with an iron hand, an assassin is summoned to the castle. She comes not to kill the king, but to win her freedom. If she defeats twenty-three killers, thieves, and warriors in a competition, she is released from prison to serve as the king's champion. Her name is Celaena Sardothien. 





The Crown Prince will provoke her. The Captain of the Guard will protect her. But something evil dwells in the castle of glass--and it's there to kill. When her competitors start dying one by one, Celaena's fight for freedom becomes a fight for survival, and a desperate quest to root out the evil before it destroys her world.



Calaena – Amanda Seyfried
Celaena Sardothien is Adarlan's finest Assassin, and the main protagonist of the Throne of Glass series. She is at first quite reluctant to make acquaintances, and is very stubborn and head-strong.
Amanda Seyfried started her career on the daytime soap operas, As the World Turns and All My Children. Since then she has moved on to start in such films as Mean Girls, Mamma Mia!, Red Riding Hood, Les Miserables, Epic and the upcoming Pan. With her sweet but also mysterious demeanor, I have a hard time not seeing her in the role of Calaena Sardothien. Plus, she has proven that she can be both good and hardcore/evil. Who wouldn't like to see her kick some serious butt as an assassin?
Chaol – Jensen Ackles
Chaol Westfall is the Captain of the Guard, Prince Dorian's good friend and he's in love with Celaena.
Jensen Ackles is best known for his role as Dean Winchester on the television series Supernatural. He's also been cast in Smallville, Dawson's Creek, Dark Angel and Days of our Lives. Though his film experience is nothing to shout about, being cast as Chaol Westfall in Throne of Glass could be a perfect breakout role for him.
Prince Dorian – Jared Padalecki
Dorian Havilliard is the crown prince of Adarlan, the eldest son of the King of Adarlan and Queen Georgina.
Jared Padalecki is best known for his lead role as Sam Winchester on Supernatural, younger brother of Dean Winchester. Wouldn't it be so appropriate if these two "brothers" also worked together on Throne of Glass? Jared has also starred in the television series, Gilmore Girls, as well as multiple horror films, including House of Wax and the recent remake of Friday the 13th. Anytime I've had to put a face to the character Dorian, I have always pictured Jared.



Let me know what you think of my movie post and dream cast in the comments!
If you decide to make your own Make it a Movie post this week, please add the URL in the comments below. (Please link directly to the post URL – not your blog URL!)
Related Posts