This meme is a way to discuss the books that have made their way to film, or to talk about the books we wish would be made into a movie. You are open to talk about any book out there in any way that you want. For example: Who would you have play the leads in the movie? Who would direct? Animated or live action? Etc.
This week my meme will focus on MY SUPER SWEET SIXTEENTH CENTURY (plus A Tale of Two Centuries and My Not So Super Sweet Life) by Rachel Harris. I'm turning this series into the ultimate chick flick, with a youthful cast that is sure to fill each role just perfectly (well, in my opinion, at least). Check out my movie poster and weight in your thoughts on my dream cast below!
Let me know what you think of my movie post and dream cast in the comments!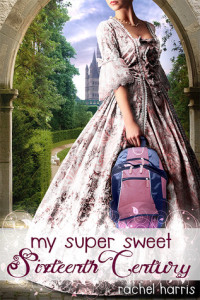 My Super Sweet Sixteenth Century

by Rachel Harris
Published by Entangled on September 1, 2012
Genres: Fantasy & Magic, Historical, Love & Romance, Young Adult
Buy the Book • Goodreads

On the precipice of her sixteenth birthday, the last thing lone wolf Cat Crawford wants is an extravagant gala thrown by her bubbly stepmother and well-meaning father. So even though Cat knows the family's trip to Florence, Italy, is a peace offering, she embraces the magical city and all it offers. But when her curiosity leads her to an unusual gypsy tent, she exits . . . right into Renaissance Firenze.

Thrust into the sixteenth century armed with only a backpack full of contraband future items, Cat joins up with her ancestors, the sweet Alessandra and protective Cipriano, and soon falls for the gorgeous aspiring artist Lorenzo. But when the much-older Niccolo starts sniffing around, Cat realizes that an unwanted birthday party is nothing compared to an unwanted suitor full of creeptastic amore. Can she find her way back to modern times before her Italian adventure turns into an Italian forever?

 This poster was inspired by the one created for Something Borrowed.
I couldn't help it. I love that layout so much when I think of chick flicks.


CAT – Alexandra Daddario
At the start of the series, Cat Crawford is soon-to-be-sixteen. She's witty, cautious and artistic. She sees traveling to the 16th century as an opportunity to escape the spotlight in her modern-day world.
Alexandria Daddario may not have the brown eyes, but she has all of the attitude and charm that it takes to pull off the hard-as-nails Cat. She is best known for portraying Annabeth Chase in the Percy Jackson and the Olympians films. In addition she has appeared on All My Children, Law and Order and has made various other television appearances..
LORENZO/LUCAS – Ross Lynch
Lorenzo Capelli is the young artist that Cat falls for while in the 16th century. Lucas Capelli is his modern day doppelganger. They are both flirtatious and intrigued by any challenge.
Ross Lynch has the looks but does he have the chops? While I'm sure he could easily pull of the modern-day character, Lucas, I have yet to decided how he would do as Lorenzo. That would be a challenge as I'm sure that Lorenzo has a very deep accent. Ross is a Disney native, best known for his roles in the Disney Channel series Austin & Ally and Teen Beach Movie.
LESS – Ariana Grande
Alessandra D'Angeli is a slightly timid but bright young lady from 16th century Italy. Her wish is to become an actress and express herself in way that she could not back at home.
Ariana Grande is Italian, guys! What could be better than that? Also, she has the look and the "good girl" charm that could bring Less to life. Ariana is an actress, singer and songwriter – best known for her role as Cat Valentine on the Nickelodeon sitcoms, Victorious and the spin-off, Sam & Cat.  

AUSTIN – Cody Christian
Austin Michaels is a 'bad boy" surfer who Less falls for when she arrives in modern-day California. He's sarcastic, flirtatious and fiercely protective – especially when it comes to Less.
Holy moly, Cody Christian is gorgeous. He has that bad boy attitude and overall cuteness that is needed for the role of Austin. Cody is best known for his recurring role as Mike Montgomery in the ABC Family series Pretty Little Liars. He also played Peter Malarkey in The Hunger Games film parody, The Starving Games.
REYNA – Kat Graham
Reyna is the mysterious girl who provides both Cat and Less the opportunities of a lifetime. Little is known about her except that she is simply out to help them to fulfill their destinies.
Kat Graham (isn't it funny that almost all my actor and actress choices today have the same name or have played characters with the same name as those in this book?) is a young and exotic-looking actress of Canadian/Swiss decent. There's something about her eyes that pulls me in and makes me think of Reyna. She is best known for her role of Bonnie Bennett on The CW television series The Vampire Diaries.


Let me know what you think of my movie post and dream cast in the comments!
If you decide to make your own Make it a Movie post this week, please add the URL in the Linky below. (Please link directly to the post URL and not your blog URL!)
Related Posts