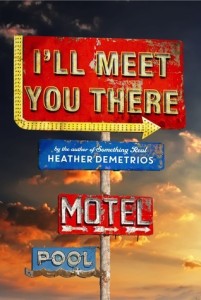 I'll Meet You There by Heather Demetrios
Published by Macmillan on February 3rd 2015
Genres: Adolescence, Family, Love & Romance, Military, Parents, Social Issues, Suicide, Young Adult
Source: ARC from Publisher
Buy the Book • Goodreads






I received this book for free in exchange for an honest review. This does not affect my opinion of the book or the content of my review.
If seventeen-year-old Skylar Evans were a typical Creek View girl, her future would involve a double-wide trailer, a baby on her hip, and the graveyard shift at Taco Bell. But after graduation, the only thing standing between straightedge Skylar and art school are three minimum-wage months of summer. Skylar can taste the freedom—that is, until her mother loses her job and everything starts coming apart. Torn between her dreams and the people she loves, Skylar realizes everything she's ever worked for is on the line.

Nineteen-year-old Josh Mitchell had a different ticket out of Creek View: the Marines. But after his leg is blown off in Afghanistan, he returns home, a shell of the cocksure boy he used to be. What brings Skylar and Josh together is working at the Paradise—a quirky motel off California's dusty Highway 99. Despite their differences, their shared isolation turns into an unexpected friendship and soon, something deeper.
---

So far, I have read exactly two books dealing with the tough subject of post traumatic stress disorder as it relates to war. So far, both of these books have been a slam dunk. I'll Meet You There can easily be compared to Something Like Normal by Trish Doller. In SLN you see only from the victim's perspective, whereas in I'll Meet You There you have an outsider's view in, as well as the victim's perspective out. If you like SLN, you will likely feel the same about this book – although I have to admit, I'll Meet You There often sinks into deeper and darker places. Are you willing to meet the characters there?


The location. One thing I LOVED about I'll Meet You There is that it takes place near where I grew up during my elementary school years. I could easily picture the setting of the novel. Though I did not live in a "small town" (where I lived in Clovis, CA is actually an outskirt of Fresno, which is ironically a city that is slammed in the novel) I had friends who did – plus, I frequently passed through these types of place on my way to "somewhere else". These "hick" towns exist in various places across the country and everyone who has lived in or passed through one of these towns will likely understand the solidarity, almost "other-worldliness", of such locations.
The feeling of being "stuck" and accepting what is rather than what could be is not an unfamiliar feeling for me. I understand Skylar's need to be free from her current situation and, like me, there are certain things holding her back. Although Skylar's mom is her personal downfall, she is also her security blanket of sorts and Creek View is her safe haven. It's almost as though Skylar is looking for an excuse to stay – to stay young and innocent, to stay where she is most familiar. Her conflict rests in her desire to move on… Whereas Josh has already seen what's out there. While Creek View is his safe haven (just like it is for Skylar) it is also a place where he feels he no longer belongs. Plus, he's dealing with PTSD while trying to recover from a personal tragedy. It is not surprising how he has changed in the eyes of those who knew him before he was sent overseas. It is not surprising how the world he'd known had changed in his own eyes.
Tragedy seeps on every page in I'll Meet You There. Your emotions will be taken through the wringer. Characters make really, really bad decisions and you will want to smack them over the head numerous times. But there is also so much beauty within these pages. You will appreciate the character's insights, the dialogue, the descriptions on every page. Do you love scenes that involve dancing in the rain? I'll Meet You There has got you covered. Do you appreciate art and creative insight into a city and the people in it? Just you wait until you read about Skylar's "pet project". Do you like contemporary fiction at it's best? Well what are you waiting for???
Read it. Read it NOW.


Josh. Oh, Josh… Although I eventually fell for you – and fell hard – you really, really made it hard for me to sympathize (or is it empathize?) with you at the start. Oh, and that one mistake you made toward the end? I will blame it on your emotional constipation. But just know that you broke me, too. That HURT. That really, really hurt…
…And SKYLAR! I almost wanted you to NOT forgive and forget… but alas.
This ship still sailed, at least. (But not without rough waters.)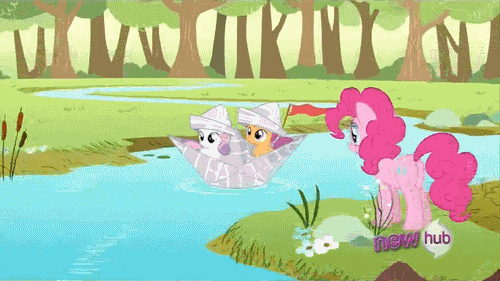 Strong central themes, characters and dialogue, plus a very hard-hitting and emotionally engaging story, are what keep I'll Meet You There afloat. One must learn to forgive when it comes to reaching the end, though. Forgive and forget. Or at least cover it up with magazine clippings and lots and lots of glue.
Four 1/2
these two kids need all the hugs

 emojis!
Pre-order I'll Meet You There and enjoy the following offer!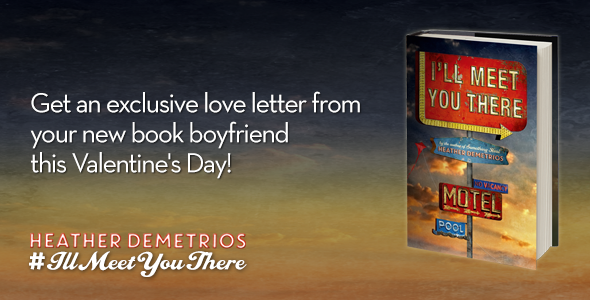 ---


Tell us what you think of the book or my review in the comments below!
Related Posts