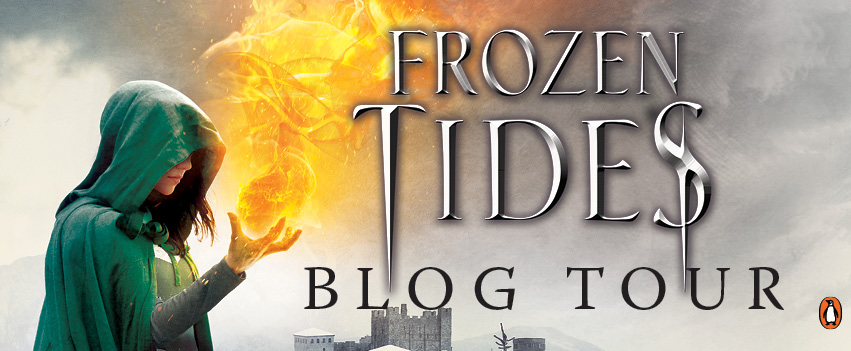 I'm seriously so IN LOVE with these characters and this world, so I signed up for this blog tour SUPER quick! I'm glad to have Morgan Rhodes back on the blog again and sharing some fun in a Would You Rather Post! 
I can't wait for the next installments and to continue this series. If you haven't picked it up yet, WHAT ARE YOU WAITING FOR??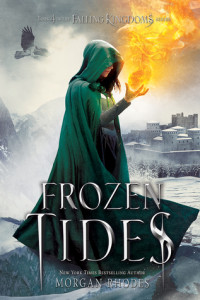 Frozen Tides by Morgan Rhodes
Published by Penguin on December 15th 2015
Genres: Family, Fantasy & Magic, Love & Romance, Multigenerational, Young Adult
Buy the Book • Goodreads

Rebels, royals, and monsters wage war over the Mytican throne in the shocking fourth book of the Falling Kingdoms series, from New York Times bestselling author Morgan Rhodes.

CLEO: Reeling after a bloody showdown in Limeros ending with Amara's abduction of the water crystal, and a vacancy in the Mytican throne, Princess Cleo must cast aside her feelings and look toward her kingdom with the eyes of a Queen.

MAGNUS: With the kingdom in chaos, Princess Lucia still missing and quite possibly in danger, and a shocking realization about Cleo, the steely prince is once again torn between love and duty, leaving him wondering whether he's strong enough to rule his people.

LUCIA: The young sorcercess has had her vengeance after the cruel death of her first and only love. Heartbroken and unable to trust anyone, she allies with the awoken Fire god, who also seeks revenge.

JONAS: After escaping death by the skin of his teeth, the defeated rebel—along with a mysterious stranger–leader reunites with Princess Cleo, only to find himself a mere pawn in a dangerous hunt for the elusive Kindred.

KING GAIUS: Abandoned by Melenia and betrayed by his own children, Gaius flees Mytica and sails to Kraeshia, where he attempts to ally with the famously brutal emperor across the Silver Sea.a.

Would You Rather?
Be best friends with Cleo or Lucia?
 
Both are princesses…one the magic-wielding daughter of the evil king (Lucia) and one the former party princess who now must fight against her enemies to reclaim her rightful throne (Cleo)… I think Cleo would be more fun, but Lucia has more books. Can I call it a tie?
Have a romance with Jonas or Magnus?
 
Well…. for starters, they're both much too young for me. However, I mean, let's just say I'm a teenager again…would I go for the dangerous rebel (Jonas) or the dark prince (Magnus)? Can I date both first to see who's right for me? (Oh, who am I kidding? Magnus 4ever!)
Be a sorceress or a Watcher?
 
Both a sorceress and a Watcher can wield elementia – elemental magic, but a sorceress is more powerful than a Watcher. Plus side: Watchers are all gorgeous, immortal beings. Downside: they are trapped in a fragment of their world and can only access the mortal world in hawk form. Sorceresses can be mortal or immortal, depending on the girl and sometimes their magic is overwhelming and self-destroying. Winner: I'd want to be a Watcher!
 
Be a rebel or a royal? 
 
When faced with the thought of living in the forest and hunting for my meals with Jonas and his rebels, versus being pampered and waited on in a golden palace like Cleo in her happier days? I choose ROYAL all the way!
Never read again or read a book you hate every day?
 
I don't like doing things I hate – in fact, I'm very much against it – so I'll probably choose not to read again. Ack!! Although…. I actually can't think of any book that I'd hate THAT much!
Live somewhere burning hot or freezing cold? 
 
Freezing cold, I think. First, I'm used to it here in Southern Ontario for a good chunk of the year. I like warm coats and scarves. And the combo of a fireplace and some hot chocolate works wonders.
On your day off, be outdoors or binging shows on Netflix? 
 
What is this "outdoors" you speak of? 😉 Binging on Netflix, definitely. 😉
Have chocolate or fruity candy?
 
CHOCOLATE!!!

Tour Schedule:Â 

This is one of my fave fantasy series! Have you read it, or plan to? Who is your fave character?
Related Posts