Ahhhhhhh today I am sharing my excitement for 5 to 1 by Holly Bodger!!! This stunningly gorgeous book is one that I have been eyeballing for a WHILE now so I'm glad to be part of the tour! I am crazy excited to be able to share this amazing Guest Post from Holly with you today! I wanted to know all about her writing quirks and she had no trouble sharing them!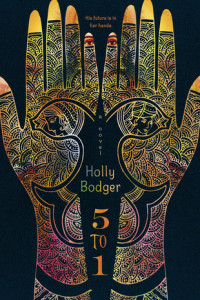 5 to 1

by 5 to 1, blog tour, guest post, Holly Bodger
Published by Random House Children's Books on May 12th 2015
Genres: Asia, Dystopian, Emotions & Feelings, Family, General, Girls & Women, People & Places, Social Issues, Young Adult
Goodreads

Part Homeless Bird and part Matched, this is a dark look at the near future told through the alternating perspectives of two teens who dare to challenge the system. In the year 2054, after decades of gender selection, India now has a ratio of five boys for every girl, making women an incredibly valuable commodity. Tired of marrying off their daughters to the highest bidder and determined to finally make marriage fair, the women who form the country of Koyanagar have instituted a series of tests so that every boy has the chance to win a wife. Sudasa, though, doesn't want to be a wife, and Kiran, a boy forced to compete in the test to become her husband, has other plans as well. As the tests advance, Sudasa and Kiran thwart each other at every turn until they slowly realize that they just might want the same thing. This beautiful, unique novel is told from alternating points of view--Sudasa's in verse and Kiran's in prose--allowing readers to experience both characters' pain and their brave struggle for hope.

Behind the Author: Writing Quirks
I'm always writing, but I'm often not home. Because of this, I sometimes write on my laptop, I sometimes write on printed pages from Word, and I sometimes write on my phone or whatever random scrap of paper I can find. If this happens in the middle of the night, the notes I write for myself in the dark are left for Morning Me to try to decipher in the morning!
When I am home, I do most of my writing, editing and planning in my writing room. It took me a while to create a room that had everything I needed as a writer. Here is a picture of what I came up with.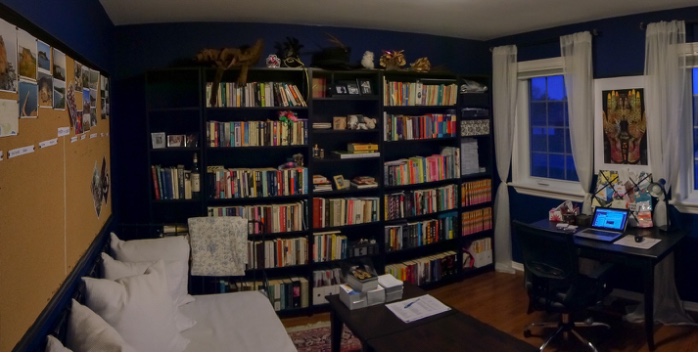 First, and most importantly, I have a desk with a really good chair. On this desk you will find a laptop, a stack of notecards (many of which are covered in illegible pencil scratchings that say things like "p 96 what about D?"), a container of pencils and colored pens, a board covered in random notes and memorabilia from conferences, and some candy. Had I taken this photo during the day, there would also be either a glass of Coke Zero or a cup of tea.
On the long wall you will find 5 bookcases, each of which has its own purpose. The first is for current files and research, the second is for adult fiction, the third is for non-fiction & poetry, the fourth is for MG & YA, and last is for my own books and SWAG. Spread throughout this bookcase are random book things, most of which demonstrate my obsession with Harry Potter. There is a wand (Dumbledore, of course), a sorting hat (Ravenclaw, of course), a Professor McGonagall hat (because Maggie rocks), some stuffed rats, a snitch, a broom (doesn't actually fly) and a white owl (also, strangely, doesn't fly).
On the next wall is a daybed. Whenever I do a full read-through of a manuscript, I always sit on this bed with my 5 pillows, a big blanket, a cup of tea and my manuscript in print. This is the best way for me to quite literally "walk away" from my computer. It also helps me get a different perspective on things. I'm a reader when I'm on the daybed. I may make notes in the margins, but I don't write on this bed. Ever.
Above the daybed is my most-valued tool after my laptop: my corkboard. This corkboard is eight feet long and is always covered in things from the book I am currently working on. It usually has inspirational and informational clippings at the top, and then plot cards all across the middle. These plot cards are organized into the main sections of the novel. If I am writing double point-of-view (which I often am), I have a line of cards for each character with vertical intersections for scenes that involve both characters. I cannot tell you how much this corkboard changed my writing. Any time I think I am stuck, I go to the cards. Sometimes, I remove all the cards (as you can see in the picture right now) and start them from scratch again. Other times, I just use them for reference.
There you have it. The me behind writer Me!


What do you think about Holly's writer quirks and how excited are you about 5 to 1? Leave your thoughts in the comments below!
Related Posts