The following blog tour post involves a book that will change everything.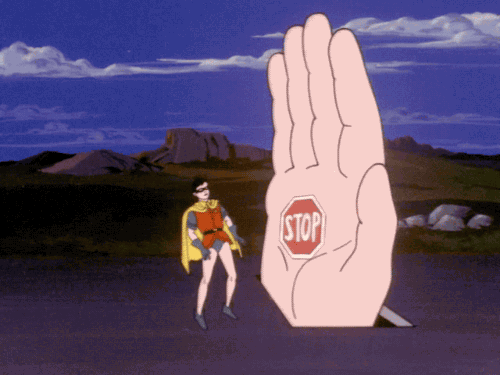 For all that is sacred, please give us a moment of your time.

Holding Up the Universe by Jennifer Niven
Published by Penguin Books Limited on October 6, 2016
Genres: Adolescence, Contemporary Women, Death & Dying, Diseases, Illnesses & Injuries, Diversity, Emotions & Feelings, Family, Health & Daily Living, Love & Romance, Self-Esteem & Self-Reliance, Young Adult
Source: ARC from Publisher
Buy the Book • Goodreads






I received this book for free in exchange for an honest review. This does not affect my opinion of the book or the content of my review.
From the author of the New York Times bestseller All the Bright Places comes a heart-wrenching story about what it means to see someone—and love someone—for who they truly are.

Everyone thinks they know Libby Strout, the girl once dubbed "America's Fattest Teen." But no one's taken the time to look past her weight to get to know who she really is. Following her mom's death, she's been picking up the pieces in the privacy of her home, dealing with her heartbroken father and her own grief. Now, Libby's ready: for high school, for new friends, for love, and for EVERY POSSIBILITY LIFE HAS TO OFFER. In that moment, I know the part I want to play here at MVB High. I want to be the girl who can do anything. 

Everyone thinks they know Jack Masselin, too. Yes, he's got swagger, but he's also mastered the impossible art of giving people what they want, of fitting in. What no one knows is that Jack has a newly acquired secret: he can't recognize faces. Even his own brothers are strangers to him. He's the guy who can re-engineer and rebuild anything in new and bad-ass ways, but he can't understand what's going on with the inner workings of his brain. So he tells himself to play it cool: Be charming. Be hilarious. Don't get too close to anyone.

Until he meets Libby. When the two get tangled up in a cruel high school game—which lands them in group counseling and community service—Libby and Jack are both pissed, and then surprised. Because the more time they spend together, the less alone they feel. . . . Because sometimes when you meet someone, it changes the world, theirs and yours.

Jennifer Niven delivers another poignant, exhilarating love story about finding that person who sees you for who you are—and seeing them right back.

I'm sure that many of you know by now the buzz that was created when the description of Holding Up the Universe first made its presence on the web. Yes, this was that book that seemingly likened the simple act of being an overweight teen to having to be lifted out of a house by a crane. It appeared to be yet another book about a girl who changes herself, then finds love with the "it" boy at her school… and he only likes her because he cannot really "see" her. Does that sound familiar?
I'll admit, I was one of those people who (mistakenly) stood on the negative side of the ensuing debate…
I take back everything I ever said at the beginning.
Beautifully written, honest and heartbreaking – ultimately full of hope and incredibly thought-provoking – Holding Up the Universe is one of the BEST (no, strike that, THE ABSOLUTE BEST) teen contemporaries I have EVER read. I relate to these characters in so many ways, from the weight issues, feeling burdened by the (metaphorical) weight of the world, being bullied in school, or having a loved one with a brain injury and then dealing with its after-effects… Anyone who has ever had to pass through high school, or grow up in our modern society that values physical appearance above all else – especially anyone whom others have found "lacking" in the physical department, anyone who has had to cope with losing a loved one or has struggled with loving themselves will relate to this book.
That's right, all of the above topics can be found in Holding Up the Universe.
It seems like a lot for one little book, clocking in at around 300(ish) pages, to accomplish, right? Luckily, Holding Up the Universe succeeds in conveying its message on every level. And it does so through two young voices that readers will grow to love with every flip of the page. Did you think that you adored Finch in All the Bright Places? Just wait until you meet Jack. Sure, he starts off on the wrong foot, but as you get to know the character – and as more and more of his secrets are revealed – he comes out on top. He has guts, where I found Finch to be lacking. He is there when things really matter the most. His story is one to remember and to cherish. (Not to mention, he reminds me so much of my own husband, thanks to recent events. In all the best of ways.)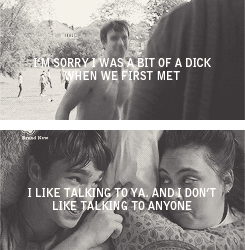 Jack in GIF form.
But for all the awesome that Jack provides within Holding Up the Universe, It is the voice of Libby that will win readers over the most. She is the fat girl described within the description. Yes, she literally was removed from her home with a crane. But for a very, very good reason. She had to lose (some) weight for her health.
BUT THIS IS NOT THE FOCUS OF THE BOOK.
Not in the least.
The "weight loss" occurs before we even meet Libby for the first time. When we meet her, she is still considered "fat" by most standards. Weight loss is no longer the focus. Rather, Libby and the whole of Holding Up the Universe share a story and a message that is so much more important – and 1,000x more inspiring – than the cliche "girl becomes healthy and gets the boy". This book will have you thinking about how you treat yourself, as well as how you treat others. It will have people embracing WHO THEY ARE, and not who they cannot be. It will having us looking at people (and ourselves) in entirely new ways. It will allow us to focus on the words "seeing" and "acceptance".
Holding Up the Universe is an important book. It could be a life-changer for that girl or boy who feels lost in their body or lost in the universe.
As for me? While I read, I had to repeatedly stop because the pages were quickly becoming less and less. I found myself reflecting back on what the book was telling me. I looked deeper into the conditions that were described. I wanted to hug the book and all of the people to whom it would mean the world.
I saw Libby. I saw Jack. I smiled, I laughed, I cried and I nodded, and nodded, and nodded… again and again… as I read.
Because this is me.
This is us.
Five

all the love for this book

emojis

 








Have you had a chance to read Holding Up the Universe yet?
Do you plan to when it is released?
Related Posts