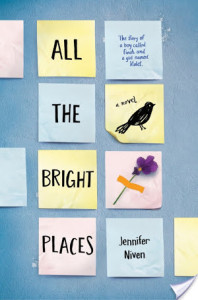 All the Bright Places

by Jennifer Niven
Published by Random House Children's Books on January 6th 2015
Genres: Death & Dying, Depression & Mental Illness, Love & Romance, Social Issues, Young Adult
Source: ARC from Publisher
Goodreads






I received this book for free in exchange for an honest review. This does not affect my opinion of the book or the content of my review.
The Fault in Our Stars meets Eleanor and Park in this exhilarating and heart-wrenching love story about a girl who learns to live from a boy who intends to die.Soon to be a major motion picture starring Elle Fanning! Theodore Finch is fascinated by death, and he constantly thinks of ways he might kill himself. But each time, something good, no matter how small, stops him. Violet Markey lives for the future, counting the days until graduation, when she can escape her Indiana town and her aching grief in the wake of her sister's recent death. When Finch and Violet meet on the ledge of the bell tower at school, it's unclear who saves whom. And when they pair up on a project to discover the "natural wonders" of their state, both Finch and Violet make more important discoveries: It's only with Violet that Finch can be himself—a weird, funny, live-out-loud guy who's not such a freak after all. And it's only with Finch that Violet can forget to count away the days and start living them. But as Violet's world grows, Finch's begins to shrink. This is an intense, gripping novel perfect for fans of Jay Asher, Rainbow Rowell, John Green, Gayle Forman, and Jenny Downham from a talented new voice in YA, Jennifer Niven.
---
 

Every once in a while I come across a book that completely steals my heart and touches the very depths of my soul. ALL THE BRIGHT PLACES was one of those books for me. It is raw, emotional, riveting, and tore me apart COMPLETELY. I seriously cried for the last 30+ pages, THEN I proceeded to cry when I tweeted the author about how much I loved her book, THEN as I wrote my short little thoughts on Goodreads….I cried some more. I honestly can't recall ever being THAT emotional over a book before.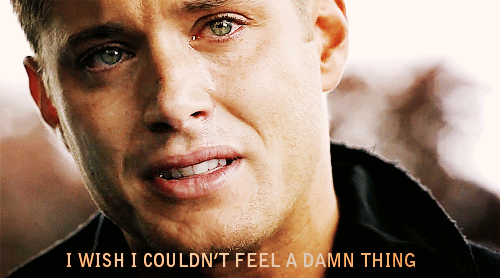 One of the main reasons (other than the fact that a lot of blogger friends were RAVING about it) that I decided to request this book is because it dealt with mental illness and suicide. I'm always really intrigued by topics to do with mental illness and will read practically any book that revolves around it. My main need from books about these topics though, is that I need to be impacted by them. I want to be moved and REALLY feel what the characters are going through, and Niven do the perfect job giving me that. Everything that Violet and Finch go through, I felt as though I was there going through it with them. They are both characters that I love dearly and was easily and quickly emotionally attached to them. Finch was definitely my favorite, he had such a personality, even though he needed help. I think he came across as one of those people that you couldn't help but love once you got to know him.
One thing that majorly irritated me though was Finch's family. I could have smacked them all for the lack of care they had in his obvious mental instability. I stayed wanting to reach through the book and strangle them! I also got very irritated with his counselor almost every time they talked to one another. I felt like he had so many signs and that the counselor was lagging on his job MAJORLY. Violet was the only one I felt that really fought to get through to him and try to get him help. Her willingness to love him even when she saw the entire picture made me love her even more.
"I'm a fuckup. I'm broken, and no one can fix it. I've tried. I'm still trying. I can't love anyone because it's not fair to anyone who loves me back."-Theodore Finch, ALL THE BRIGHT PLACES
The romance between Violet and Finch was completely adorable. I really enjoyed reading all the cute things he did for her and the ways he constantly surprised her. While I know it was some of the grander things were due to the things going on with him, I believe that he gave Violet all the things she really needed in her life at that moment in time.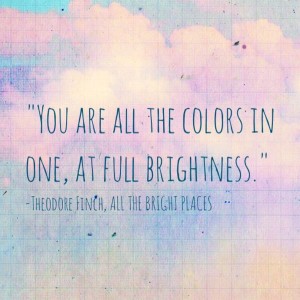 I really don't feel like I could ever type any words that would accurately describe this book, no words would do it justice at all. Just know that it is a book that will stay with you long after you put it down. It is a book that will make you happy and overly emotional every time you think about it. It is a book that is needed in this day and age, where mental illness is high and there is such a stigma about it. It is a book you NEED in your life.
Also make sure to read the Author's Note after reading the story. I always read them, but I know some don't. This one is very much worth reading.

Five
this book tore my soul out

 emojis!
---



Tell us what you think of the book or my review in the comments below!
Related Posts