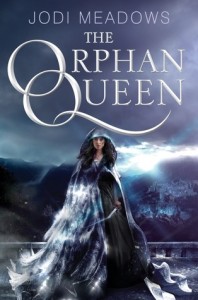 The Orphan Queen by Jodi Meadows
Published by Harper Collins on March 10, 2015
Genres: Action & Adventure, Fantasy & Magic, Love & Romance, Young Adult
Source: ARC from Publisher
Buy the Book • Goodreads






I received this book for free in exchange for an honest review. This does not affect my opinion of the book or the content of my review.
Wilhelmina has a hundred identities.

She is a princess. When the Indigo Kingdom conquered her homeland, Wilhelmina and other orphaned children of nobility were taken to Skyvale, the Indigo Kingdom's capital. Ten years later, they are the Ospreys, experts at stealth and theft. With them, Wilhelmina means to take back her throne.

She is a spy. Wil and her best friend, Melanie, infiltrate Skyvale Palace to study their foes. They assume the identities of nobles from a wraith-fallen kingdom, but enemies fill the palace, and Melanie's behavior grows suspicious. With Osprey missions becoming increasingly dangerous and their leader more unstable, Wil can't trust anyone.

She is a threat. Wraith is the toxic by-product of magic, and for a century using magic has been forbidden. Still the wraith pours across the continent, reshaping the land and animals into fresh horrors. Soon it will reach the Indigo Kingdom. Wilhelmina's magic might be the key to stopping the wraith, but if the vigilante Black Knife discovers Wil's magic, she will vanish like all the others

Jodi Meadows introduces a vivid new fantasy full of intrigue, romance, dangerous magic, and one girl's battle to reclaim her place in the world.
---

One thing I love about fantasy novels is that almost every story we're introduced to is unique and so unlike those that have come before. Magic can make characters go beyond typical mortal reaches and we are allowed to explore fantastical lands and creatures that have never before existed. THE ORPHAN QUEEN by Jodi Meadows is a wholly original and unparalleled world with a magic that is both curious and forbidden.
Much like the world of Game of Thrones and (oddly enough) our own, war runs rampant within the kingdoms. It is an endless cycle in which the kingdoms battle for power and for land, often at the cost of the lives of the innocent.  In addition, there exists a darkness that creeps (literally, as a mist) and stretches far and wide… While humans fight each other, something even bigger is on the prowl – and it may destroy the very world they are fighting to control. I'll admit, the dark side of the magic in this novel had me intrigued – almost more than the actual use of the magic itself.
The book is centered around the character Wilhelmina (or 'Wil' for short) – who is the orphaned princess of a long-ago conquered kingdom. Wil and her motley crew of orphaned nobles hope to one day reclaim the land that is rightfully theirs. But the Indigo Kingdom – and the (annoyingly ever-present) vigilant, Black Knife – stand in their way. So how to they intend to reclaim their land? Why by infiltrating the enemy's own castle, of course! The Ospreys, as the orphans like to call themselves, decide to implant spies who will gain intel and build their army from within. Who better to carry out this plan than the stealthy "Orphan Queen" herself, Wil?
The two main characters, Wil and Black Knife, are among the best in fantasy. They are much like Batman and Catwoman a la the 19th Century. Seeing Wil move, in both the darkness and the light, is a treat to behold. And Black Knife is quite the catch, as well, if you ask me. I love their love-to-hate-to-love you banter and the dance-like way they work together and yet are endlessly at odds with each other. If you like the slow-burn type of relationship filled with plenty of battles wit and charm, the Wil/Black Knife interactions will have you clutching the book and rolling around with glee.
The Osprey's plan will force Wil to cross paths with the ghosts of her past and the truth about her kingdom's downfall. She will travel to distant lands to find out the truth about the dark magic that may unravel the world as she knows it. She will make friends of her enemies, and enemies of those she had long thought her friends. Among the unfamiliar royal engagements and midnight trysts among the rooftops, she may even find some time to fall in love – as well as become a vigilante for the very kingdom she had always sought to destroy…
Needless to say, The Orphan Queen is without a doubt one of my favorite YA fantasies EVER. After that killer of a cliffhanger ending, I am not sure how patient I will be while waiting for the finale in this duology, The Mirror King, to be released. Thank goodness we have four prequel novellas to look forward to in the meantime. Even still, I highly recommend that you add this book to your collection ASAP.


Be still my heart… The Orphan Queen wins the ultimate cliffhanger award.
Five
little Black Knife

 emojis!

As a treat for Jodi Meadows and her fans, we have decided to create a bookiemoji just for The Orphan Queen and exclusively available as part of this blog tour. It features a character that many will quickly come to know and love.
So without further adieu…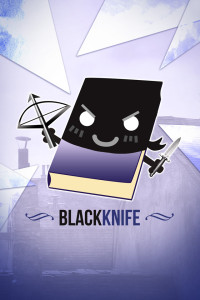 Download for:
desktop
1280 x 800 | 1440 x 900 | 1680 x 1050 | 1920 x 1200 | 2560 x 1400
iphone
1-3 | 4/4s | 5 | 6/6+
ipad/ipod
mini/1-2 | 3-4 | touch
samsung
s4/s5/note3


Harper Teen has been generous enough to offer one copy
of The Orphan Queen for us to give away on our blog!
Open to US and Canada to entrants aged 13 and older.
Void where prohibited.
'Fan Creations' Blog Tour Schedule
3/2 – Andi's ABCs
3/3 – Hello, Chelly
3/4 – Bookiemoji
3/5 – So Obsessed With
3/6 – Tune into Books
3/9 – Ticket to Anywhere
3/10 – Disquietus Reads
3/11 – A Backwards Story
3/12 – Writer of Wrongs
3/13 – Alexa Loves Books

Share your excitement about The Orphan Queen in the comments below!
What do you think about our Black Knife bookiemoji?
Related Posts