I'm so glad to be a part of this tour for Still Waters. This book sounds so intriguing to me and I can not wait to read it! Ash Parsons has answered a few questions for us and Penguin also is offering a chance to win a copy, so make sure to enter the Rafflecopter at the bottom!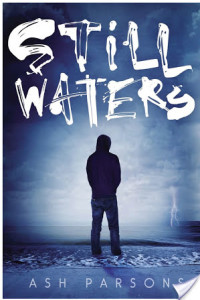 Still Waters

by Ash Parsons
Published by Penguin on April 21st 2015
Genres: Family, General, Mysteries & Detective Stories, Physical & Emotional Abuse, Social Issues, Young Adult
Goodreads

A gritty, powerful debut that evokes The Outsiders. You won't be able to look away. High school senior Jason knows how to take a punch. Living with an abusive father will teach a kid that. But he's also learned how to hit back, earning a reputation at school that ensures no one will mess with him. Even so, all Jason truly wants is to survive his father long enough to turn eighteen, take his younger sister, Janie, and run away. Then one day, the leader of the in crowd at school, Michael, offers to pay Jason to hang out with him. Jason figures Michael simply wants to be seen with someone with a tough rep and that the money will add up fast, making Jason's escape plan a reality. Plus, there's Michael's girl, Cyndra, who looks at Jason as if she sees something behind his false smile. As Jason gets drawn deeper into Michael's game, the money keeps flowing, but the stakes grow ever more dangerous. Soon, even Jason's fists and his ability to think on his feet aren't enough to keep his head above water. Still Waters is an intense, gritty thriller that pulls no punches—yet leaves you rooting for the tough guy. A powerful, dynamic debut.Praise for Still Waters:A Junior Library Guild Selection

Q: What inspired this book and main character, Jason?
 A: Like all authors, inspiration comes from many places. I was thinking about rumors in any community (but especially High School as I was a teacher at the time) and I was thinking about rumors I had heard when I was in High School, things that happened, and it all linked together. As I was thinking about how desperation can escalate into violence, I started conjuring this character, and then the voice was simply there.
Q: Were there any scenes that you had to cut that you had a hard time letting go of?
A: Yes and no, sometimes cuts hurt but usually you realize you're better off doing them. I had a couple of chapters after the climax that had to be condensed/cut and that was the hardest one to actually do.
Q: Do you have a character that you can most relate with?
 A: I really liked writing Jason because of his anger at injustice.
Q: What is the weirdest thing you've had to do/find for book research?
 A: For a current project I had to research DNA destruction/testing after a fire. FUN TIMES. lol
Q: If you could write a book with anyone, who would it be?
 A: Oh my goodness. I don't know – I've never co-written a book. Perhaps Carrie Mesrobian? She's an online friend who I can't wait to meet IRL and we share a lot of the same interests.  Plus she constantly cracks me up. J
Q: You can eat ONE food for the rest of your life…what is it?
A: Korean spicy chicken bbq  & kimchee.
Q: What is your favorite hobby, outside of reading and writing?
 A: I love spending time outside with my family and I also love binge-watching TV. Seems like the two cancel each other out, but really they complement each other!  😀
 Thanks so much for having me on the blog!

Related Posts