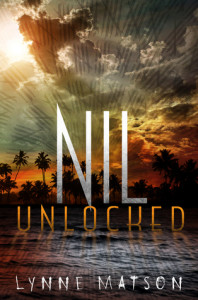 Nil Unlocked by Lynne Matson
Published by Macmillan on May 12, 2015
Genres: Action & Adventure, Love & Romance, Science Fiction, Young Adult
Buy the Book • Goodreads

On the island of Nil, the rules are set. You have exactly 365 days to escape--or you die. Rives is now the undisputed Leader of Nil City, but keeping the City united is tougher than ever. Raiders have grown bolder, supplies are dwindling, and non-human inhabitants have taken a turn toward the deadly.

New arrivals cause rifts within the City, putting the Search system at risk, and calling everything Rives knows into question. Desperate for answers, he teams up with the only other person searching for them: Skye, a new arrival with a mysterious past of her own. Soon the duo find themselves locked in a desperate race to save all the residents of Nil--and possibly destroy the island forever. But at what cost? And who will pay the price?
I am beyond stoked to be a part of the NIL UNLOCKED blog tour today. Thank you Macmillan and Lynne Matson for inviting Bookiemoji to be a part of the fun! I (Jenna) have enjoyed both books in this series thus far, and cannot wait to share with you some of the secrets that Lynne is spilling with us today.
So sit back, relax (hopefully with a coconut infused beverage) and be sure to stick around for the giveaway later in this post!
 

Today I'm talking island inspiration! Specifically, I'm sharing where in the world is Nil, and what island—or islands—inspired the world of Nil.
First *spoiler alert!* View Spoiler »Nil isn't in this world exactly, but the island that inspired NIL definitely is! 🙂 « Hide Spoiler
In case you didn't know, NIL was completely inspired by Hawaii—and on Hawaii. My husband had won a trip to the big island with his company. As we flew in, we could see the full breadth of the island from the air. It was gorgeous: lush and green in parts, on fire in others, barren in stretches, with a coastline dotted with cliffs and sandy beaches. As we left the airport, we drove through miles of ancient lava fields. Broken red rock stretched endlessly on each side, gorgeous and desolate. No roads, no buildings, no people–-just the eerie sound of wind blowing over the barren rocks. I remember thinking how much it all looked like an alien planet, and thinking how creepy it would be to wake up there, alone. And I remember thinking how scary it would be as a teenager, to wake up by yourself, not having a clue where you were or how you how got there, and what if–because isn't this every person's worst nightmare?!–you woke up naked? NIL was born in that moment.
I loved the idea of a deadly paradise. It's a cool contrast to play with, because for those characters, they can never relax completely, even though their surroundings may look like the perfect island retreat. On Nil, the characters' clocks are always ticking, making each day a race against death . . . even when the characters are running on a gorgeous white sand beach.
But where exactly is the island of Nil? View Spoiler »The actual island is in another dimension, accessed through portals/rips in space/gates (whatever word the teens choose to use). But, « Hide Spoiler Nil's also tied to Polynesia—and Micronesia, and as a result, those islands gave me loads of inspiration, not just Hawaii. I researched the history of dozens of islands in Polynesia and Micronesia, and was awed by what I found. Some of that research finds it's way into NIL UNLOCKED. I can't say much more here or I'll be all spoilery.:)
Oh, and did I mention I watched A TON of Gilligan's Island growing up? I was fascinated by the characters—by the ridiculous impossibility of Ginger's perfect hair, and by the Professor's brilliant island ingenuity. To this day I'm bewildered by the fact that the Professor could make a working receiver out of coconuts, and yet, he couldn't figure out a way off the island. lol Anyway! I can't help but think the fictional island of Gilligan snuck into the world of Nil, at least a teeny bit—if nothing else, the eerie vibe about being trapped in paradise.:)
Thanks for having me on your blog today, Jenna, and for being such a huge part of the #NILtribe! *clinks coconut cup against yours*
xoxo
Lynne
Lynne is going on the Fierce Reads tour in May. Be sure to check out the dates and locations.
Also! Check out the full blog tour schedule:

Thanks to Macmillan, one lucky winner will receive a copy of
NIL (paperback) and NIL UNLOCKED (hardcover).
Must be 13 years of age or older. US residents only. Void where prohibited.


Talk to us about the guest post or share some NIL love below!
Related Posts