Ahhhhhhhhhhhh!!! I'm so excited to be posting about GIRL AGAINST THE UNIVERSE today!!
I was lucky enough to be a super early reader of this story and I absolutely LOVE it!! I will be doing a review closer to release date, but I promise you this is a book that you NEED. The characters are AMAZING, the writing is superb, and the emotional journey Maguire's story took me through was my favorite thing.
AND there is JORDY,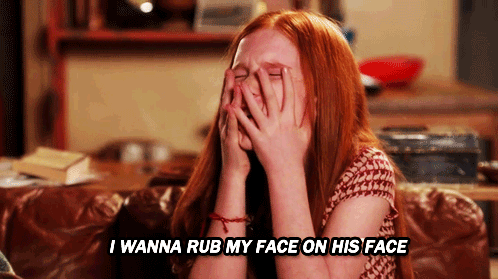 who you will learn more about shortly.
Also, make sure to enter the first giveaway for an ARC of GATU, hosted by Paula Stokes 😀

Girl Against the Universe by Paula Stokes
Published by HarperCollins on May 17th 2016
Genres: Adolescence, Friendship, Love & Romance, Social Issues, Young Adult
Goodreads






Maguire is bad luck.

No matter how many charms she buys off the internet or good luck rituals she performs each morning, horrible things happen when Maguire is around. Like that time the rollercoaster jumped off its tracks. Or the time the house next door caught on fire. Or that time her brother, father, and uncle were all killed in a car crash—and Maguire walked away with barely a scratch.

It's safest for Maguire to hide out in her room, where she can cause less damage and avoid meeting new people who she could hurt. But then she meets Jordy, an aspiring tennis star. Jordy is confident, talented, and lucky, and he's convinced he can help Maguire break her unlucky streak. Maguire knows that the best thing she can do for Jordy is to stay away. But it turns out staying away is harder than she thought.

From author Paula Stokes comes a funny and poignant novel about accepting the past, embracing the future, and learning to make your own luck.

Paula: Jordy is a junior tennis star who ends up helping coach/manage the local girls' tennis team as part of his homeschooling requirements. I tend to write these tattooed, military, alpha-male love interests, so it was quite fun to create Jordy, who despite being an aspiring professional athlete isn't what anyone would call macho. Sometimes nice guys do get the girl. Here's more about Jordy:
Name: Jordy Wheeler
Age: 18
Grade: Senior
School: Avalon Online Academy for Student Athletes and Performers
Family: Mom, Dad, annoying but mostly well-meaning little sister
Hobbies: Tennis, tennis and more tennis. Oh, and sleeping.
And here's Jordy through Maguire's eyes from Chapter One:
The waiting area is empty except for a boy who looks as if he's been professionally assembled– distressed jeans you can only buy for about two hundred bucks a pop, messy brownish-blond hair you can only get with a fair amount of product and patience, ridiculous tan without any obvious signs of peeling. He's not hot, exactly—his nose is a little crooked and he's a bit lanky, like a baby giraffe still growing into his limbs—but he sure knows how to work with what he's got.
The boy looks up from a sports magazine as I shut the door to the inner office behind me. Cocking his head, he studies me with a harmless sort of curiosity for a moment before dropping his eyes back to his article. He pulls his long legs in close to the seat as I pass by so I don't trip over them. It's the kind of low-key, friendly gesture I appreciate.
"Thanks," I say.
"You're welcome," the boy says, which strikes me as odd. Who says that? You're welcome. It's so strangely formal.
Dr. Leed's receptionist slides open a frosted glass partition and motions to the boy. "He's ready for you," she mouths. She's got a black phone pinned between her shoulder and ear while she looks up something on the computer. The boy tosses the magazine onto the chair next to him. He stands, stretching his arms over his head. "Wish me luck." He flashes me a conspiratorial grin. Even his smile looks engineered—warm, friendly, just the right amount of lips and teeth. But it aligns all the rest of his features in a way that makes me second-guess my earlier judgment about his hotness.
"Good luck," I mumble.
Little does he know I'm the last person he should be asking for luck.


Good luck!!

Is this a book you will add to your TBR?
Related Posts