That moment you have this book you just know you are going to love because everyone else is LOVING it, but then you don't.

DNF at 54%
I'm going to, ever so quietly, call it quits on this one. I'm 210 pages in, forcing myself to read a few chapters at a time, not really feeling the story. There was one redeeming part to this book, which came in the form of Asher, he's quite amusing, alas he still isn't enough. It just doesn't feel like a lot is happening, and even the little bit that has happened I just can't make myself care. Maybe if it was in Ivy's point of view I would be enjoying it more since apparently she is doing all the real sleuthing, or maybe if the book was cut in half I would be more into it. Be it as it may, I'm not. I know a lot of people really love it, and I wanted to try it because I like Barnes other books and the Veronica Mars comparison really had me intrigued, but honestly I don't think the comparison rang true. But that's just me.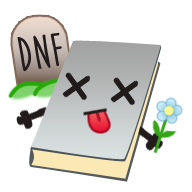 Ummm, yea. This book…..just no.
I would have DNFd this book about 30% through if I hadn't have heard and seen so many people say the reveal to what was going on was so awesome.
I should have just set this book aside. I'm not going to say I HATE this book. I mean, I didn't want to throw it in my fireplace or anything afterwards, I was just REALLY SUPER annoyed afterwards. The reason being: I HAD TO SIT THROUGH A HORRIBLE INSTA-LOVE ROMANCE FOR 75% OF THIS BOOK. (In case you weren't aware, insta-love is my number one pet peeve.)
Yes the insta-love crap had a reason. Yes I knew it had a reason. Was I any less annoyed? NO. Not one bit, especially when I had to endure this awful dude for THAT long, and the awful way Stella acted while he was around.
Now outside the romance, when all FINALLY comes to light, it's all exposed, semi-explained, then wrapped up in a nice little bow in like 30 pages. IT'S A 400 PAGE BOOK. I just need more than this.
But I will be fair, I don't think that most people will be AS bothered by this book as I was, ONLY because some may not be as bothered by the insta-love thing as I am. It is seriously the quickest way to make me just cringe while reading. It's the biggest bookish turn off for me. If the romance hadn't have gone on as long as it did and been such a central part of this book I think I could have honestly liked it, maybe like a 3 star. But that wasn't this book, and this book gets a 1.5 from me, and that is basically for keeping me there long enough to make it through.

Is there anyone else out there who just weren't feeling these? Or am I all alone?
Related Posts