Good day, fellow book readers!
Today I would like to talk about a title that will soon be on the shelves and that will, very likely, generate an array of discussions among the reader universe. It tampers with history. It dares to be different, amusing, outrageous. It even treads in the dangerous realm of…Â  horse manure.
What book is that, you ask? Well, allow me to give you the obligatory details first: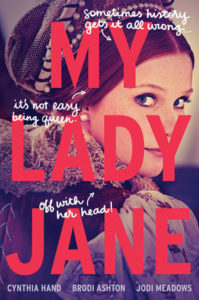 My Lady Jane by Brodi Ashton, Cynthia hand, Jodi Meadows
Published by HarperTeen on June 7, 2016
Genres: Comedy, Europe, Fairy Tales & Folklore, Fantasy, Fantasy & Magic, Fractured Fairy Tale, Fractured History, Historical, Humorous Stories, Love & Romance, Royalty
Source: ARC from Publisher
Buy the Book • Goodreads






I received this book for free in exchange for an honest review. This does not affect my opinion of the book or the content of my review.
The comical, fantastical, romantical, (not) entirely true story of Lady Jane Grey. In My Lady Jane, coauthors Cynthia Hand, Brodi Ashton, and Jodi Meadows have created a one-of-a-kind fantasy in the tradition of The Princess Bride, featuring a reluctant king, an even more reluctant queen, a noble steed, and only a passing resemblance to actual history—because sometimes history needs a little help.

At sixteen, Lady Jane Grey is about to be married off to a stranger and caught up in a conspiracy to rob her cousin, King Edward, of his throne. But those trifling problems aren't for Jane to worry about. Jane gets to be Queen of England.

Like that could go wrong.


Let it be known that I officially give this book…
Five

freaking hilarious

emojis!

Okay now. With all that being said, let's talk.
While I personally believe that My Lady Jane by Brodi Ashton, Cynthia Hand and Jodi Meadows is quite possibly the most hilarious book I have read since the dawn of non-splinter inducing reading material – and though I appreciate the liberties they took when it comes to one of the most tragic periods of European history – I am also fully aware that what I find hilarious and unique and non-objectionable may not be the point of view of others…

Sadly, Jenna. It is TOTALLY conceivable.
I am already seeing the reviews pouring in from bloggers and other early reviewers of My Lady Jane. While most many agree with my assessment that My Lady Jane is basically The Princess Bride for the 21st Century and movie producers best not drag their feet when it comes to featuring G's enormously handsome muzzle on the big screen, I am already seeing the reviews that state that this book is not funny, that it tries too hard to be The Princess Bride and the book should have taken itself a little more seriously.
Do you know that feeling you get when someone critiques something you love and cherish? The desire to go all Wile E. Coyote on them and squish them into a pile of pulp?
Well, don't.
Any retaliation you give will only come back to haunt you, times ten. Plus, you're only joking, right? Right. None of us ever actually wants to explode, or squash or filet the neighhh-sayers. Not really.
So, eh-em. Neighhhh all you want….

My horse puns suck.
My Lady Jane will soon be on the shelves, guys. And I have a feeling it will polarize us as readers. I think that those who defend this book will defend it with their lives. We will tell you to LAUGH, DAMMIT! And if we don't, you damn-well better believe that we are thinking it. We will tell you that this is the real history and all the bloody, sad and depressing stuff you thought you knew about Lady Jane are all lies, LIES, I TELL YOU!! And if you don't believe us, you can just jump out the nearest window and tell us that you won't fly, because you WILL! (No. Wait. I am NOT telling anyone to jump out of the nearest window, because chances are you actually aren't an Edian and won't turn into a bird. So don't do it. Please.)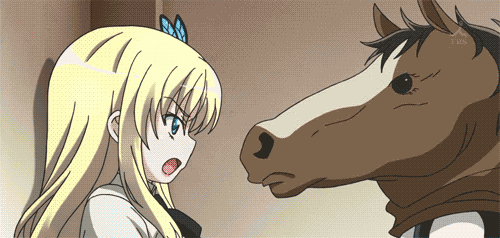 BAD Jenna for getting carried away like that.
My Lady Jane coyly includes subtexts on sexism (a problem in Lady Jane's day and age), religion (oh, "Edians" …I get it!) with much historical accuracy. But in between all the arranged marriages and be-headings surely there was plenty to laugh about, even for those dark, dark times, right? I mean, women had to have a sense of humor to get through days and days of endless knitting and embroidery. Plus those crazy religious zealots and their persecuting ways, I'm sure commoners had some brilliant one-liners to lighten up the mood in the square. My Lady Jane has a way of bringing that out in these historical characters.
As you can see, as a fervent fan of My Lady Jane, I have gone off on a tangent in the paragraphs above. But that basically emphasizes my point on how enthusiastic crazy obsessed readers can get over their favorite books.
On the flip-side, I am less joyful about a book that everyone else seemed to adore. That book is A Court of Thorns and Roses by Sarah J. Maas, yet another title that has polarized readers. And yet I was as outspoken about my dislike then, as I am outspoken about my love for My Lady Jane. I slammed A Court of Thorns and Roses like you would not believe last year, along with a select few of my reader friends. Yet, oddly enough, I gave the second book a chance, and find myself currently enthralled by A Court of Mist and Fury (my friends are too hesitant to read it). If you ask me, this series should have begun with book two! I was so outspoken then…
…And yet, this year I am hesitant to say – no, I am terrified to say – that I hate, despise and feel betrayed by what I feel to be a lackluster conclusion to The Raven Cycle, a series I actually liked up to the final entry. I have given The Raven King by Maggie Stiefvater a less than stellar 2-star review. This year, I am fearful to talk about this rating among those who love the book and the series as a whole. I guess this is all due to the passionate closeness for which we hold those books (or items) that we hold so dear. We take any critique against the favored book (or item) as an affront to our own personal character, the author and/or the characters with which we feel a connection.
The result? Pandemonium… Or, at the very least, awkwardness between friends.
Is there a point to all this? Um, I think there was, but I lost track of it.
Basically this: Our reactions or feelings about books (or other things) usually derive from our own uniquely individual lives, our personal convictions, good and/or bad timing, and various other factors. The way we speak about books (or other things) also varies based on personality, emotions and various social factors. It's easy to become heated about those things in which we believe and/or that we love, but how we choose to discuss or act upon those beliefs is up to us.
I have learned that, although books will forever polarize readers, I enjoy this specific type of bookish division among friends. Discussion about individual books results in more books sales; the more we discuss, the more they sell. So discuss away my fellow book nerds! Discuss every little thing you dislike (or, more preferably, LOVE) about My Lady Jane. Discuss all you want about the wonderful joys (or frustrations) that A Court of Thorns and Roses and The Raven King brought into your lives! Discuss, discuss, discuss about anything of which we may have differing opinions!
…And I will smile and nod and promise not to squash you.


If you have read My Lady Jane let me know what you thought!
This space is for open-minded and passionate discussion, so have at it…

Which leads us to…


Just because I want to support My Lady Jane any way that I can, anyone who comments on this post or talks w/ @Bookiemoji (and others) on Twitter with the hashtag #PositiveYA will be entered to win a copy of My Lady Jane!
Ends May 31, 2016 to anywhere The Book Depository or Amazon ship.
Must be 13 or older to enter. Void where prohibited.
Related Posts