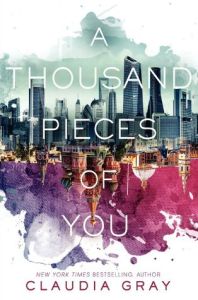 A Thousand Pieces of You by Claudia Gray
Series: Firebird #1
Published by Harper Collins on November 4, 2014
Genres: Law & Crime, Love & Romance, Science Fiction, Young Adult
Source: ARC from Publisher
Buy the Book • Goodreads






I received this book for free in exchange for an honest review. This does not affect my opinion of the book or the content of my review.
Cloud Atlas meets Orphan Black in this epic dimension-bending trilogy by New York Times bestselling author Claudia Gray about a girl who must chase her father's killer through multiple dimensions. Marguerite Caine's physicist parents are known for their groundbreaking achievements. Their most astonishing invention, called the Firebird, allows users to jump into multiple universes—and promises to revolutionize science forever. But then Marguerite's father is murdered, and the killer—her parent's handsome, enigmatic assistant Paul—escapes into another dimension before the law can touch him.

Marguerite refuses to let the man who destroyed her family go free. So she races after Paul through different universes, always leaping into another version of herself. But she also meets alternate versions of the people she knows—including Paul, whose life entangles with hers in increasingly familiar ways. Before long she begins to question Paul's guilt—as well as her own heart. And soon she discovers the truth behind her father's death is far more sinister than she expected.

A Thousand Pieces of You, the first book in the Firebird trilogy, explores an amazingly intricate multiverse where fate is unavoidable, the truth elusive, and love the greatest mystery of all.
---

 I have to admit, I am having extreme difficulty gathering my (much beloved) thoughts about A THOUSAND PIECES OF YOU by Claudia Gray. As exciting as it is intelligent, creative and compulsively addictive, this first entry in the author's latest series is sure to be a hit among YA readers over the next couple years.
Without a doubt, it was the blurb for the book that first attracted me to A THOUSAND PIECES OF YOU. Every Day by David Levithan meets my all-time favorite book, Cloud Atlas by David Mitchell? SCORE! While I admire and respect the comparisons to the above aforementioned books, I would say that A THOUSAND PIECES OF YOU is more like Every Day meets Unraveled by Elizabeth Norris meets Fringe meets Once Upon a Time meets (possibly) Cloud Atlas (to some extent).
There is a science behind the technology and events within the book, but much of it relies upon the common YA tropes we already know and (come on, admit it) adore. The author successfully takes these tropes (teenage angst and romance, constant indecision, coming-of-age and discovery, an average girl performing seemingly heroic deeds, the element of surprise…) and combines them with the difficult-to-understand theory of parallel universes. One of the main questions asked within A THOUSAND PIECES OF YOU pertaining to the consequences of entering multiple universes is: What if you were to fall in love with a person in another universe? What if this person is someone you already know in your own universe? When you return to the correct timeline, are you in love with the person who is just like the one from the other universe, or is your love simply an illusion? A strange question to form a majority of the overall plot, but it is handled in such a way that is heartbreaking and engrossing.
While some may argue that there is a "love triangle" in A THOUSAND PIECES OF YOU, this self-professed hater of triangles has a hard time categorizing the romance as such. How do you call the love for a single person over different dimensions a "love triangle"? The one that (does not) exist between Theo and Paul is so completely non-consequential, I won't even go there. But it is the one that exists between a character and *another version* of this character that may stump some readers. Oh, but I do love such confusion!!
What is intriguing is that, no matter what goes down in each universe, the events that transpire hold little consequence to the main characters after they leave that world. Essentially, as they travel, they hit a "reset" button with every leap. Yet the events that happen within each individual world and how these events interconnect are important and leave some lasting effect on the overall plot as the story progresses. It's quite stunning how our impressions on the characters and their situations change as a result. This is where I believe the comparison to Cloud Atlas comes into play. Though each world and story therein stands alone (and touches upon different storytelling genres) the effect they have on the overall theme or idea is lasting and absolute.
I adore the character Marguerite and how she is presented within the novel. Despite the fact that our introduction is a bit jarring (essentially we are dropped straight into a compromising situation, smack dab in the middle of the story) it's not so difficult catch up and eventually understand why the story and her point-of-view begins in such a manner. Although rash and quick to act before thinking, Marguerite is a quick learner, a hard fighter and willing to to anything it takes to defend those she loves. She is also open-minded and capable of great feats. She adapts to any situation thrust upon her, which is good, considering she faces many different (and difficult) environments in her travels. With every leap, she essentially "body-snatches" the "Marguerite" from that universe. Having no previous knowledge of that world or her place in it, she still somehow manages to survive and continue in her mission. Even if she does commit deeds that are going to have some serious consequences for the "Marguerite" of that particular world after she leaves, I still have to give her props for how she handles each situation that is thrust upon her. And I love how her ideals change as she gaines new knowledge. Girl demands some respect, y'all.
In addition to Marguerite are the characters Paul and Theo. Both young men are of the typical YA sort; tall, handsome… practically perfect in every way. But one of these two men (Paul) has been accused of murdering Marguerite's father. Thus the sole reason for Marguerite's escapades through multiple universes: She must capture the culprit and bring her family to justice. Of course, nothing is ever as it seems, and although some of the plot is predictably based on unpredictability, what is discovered about these characters along the way will both surprise and crush you.
But that's all part of the fun of reading, isn't it?
A THOUSAND PIECES OF YOU is highly recommended for fans of romance, historical story-lines, science fiction and/or conspiracy thrillers (in other words, basically just about everyone who reads) – I can guarantee that the Firebird trilogy will be on the top of many reader's "favorites" lists by the end of the year. I have a feeling it will continue being on mine for many years to come.
Five
I wanna hug this book forever

emojis!
---



Enter to win a finished copy of A THOUSAND PIECES OF YOU by Claudia Gray!
Thanks to the publisher, I have one copy of this fabulous book to give away.
US/Canada only. Open to registrants aged 13 and older. Void where prohibited.

Tell us what you think of the book or my review in the comments below!
Related Posts