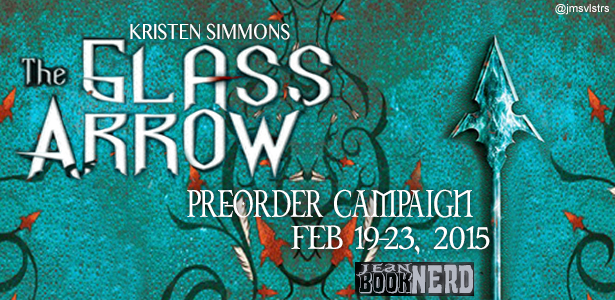 FANTASTIC NEWS BOOK NERDS!!
We have an awesome pre-order Campaign for Kristen Simmons'
The Glass Arrow running until midnight on February 8, 2014!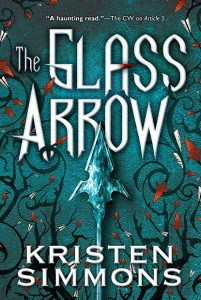 The Glass Arrow by Kristen Simmons
Published by Macmillan, Tor on February 10, 2015
Genres: Dystopian, Science Fiction, Young Adult
Buy the Book • Goodreads

The Handmaid's Tale meets Blood Red Road in Glass Arrow, the story of Aya, who lives with a small group of women on the run from the men who hunt them, men who want to auction off breeding rights to the highest bidder.

In a world where females are scarce and are hunted, then bought and sold at market for their breeding rights, 15-year old Aya has learned how to hide. With a ragtag bunch of other women and girls, she has successfully avoided capture and eked out a nomadic but free existence in the mountains. But when Aya's luck runs out and she's caught by a group of businessmen on a hunting expedition, fighting to survive takes on a whole new meaning.
---


A personal Skype session or phone call with Kristen, The Article 5 series signed in paperback, The Glass Arrow signed bookmarks, a $50.00 Amazon Gift Card and an EXCLUSIVE bonus: a mention in the acknowledgements of Kristen's next book, Metaltown.
Let's make this happen and the spread the book love for #TheGlassArrow.
How to Pre-order??? …Easy! READ BELOW!!
Email your final order to ksimmonspreorder@gmail.com. You can forward an email, take a screenshot of the order page, attach a picture or pdf of the order. And you can order from anyone — online, your local bookstore, your local chain store, or any retailer who sells books. The winning entry will be chosen from the Rafflecopter below.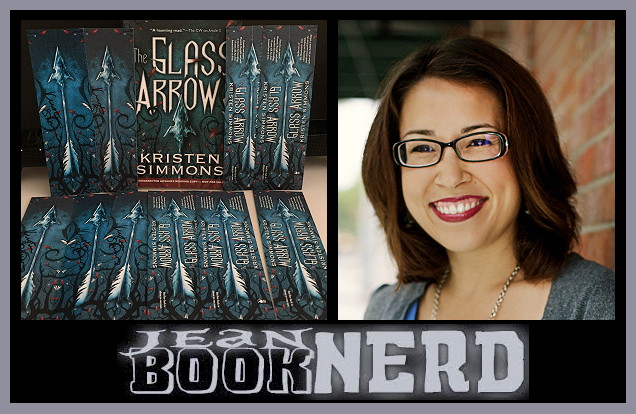 Share your excitement about The Glass Arrow in the comments below!
Related Posts