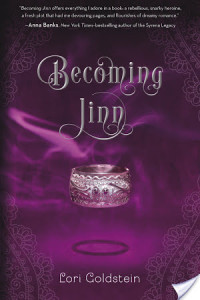 Becoming Jinn by Lori Goldstein
Published by Macmillan on April 21st 2015
Genres: Fantasy & Magic, General, Legends, Myths, Fables, Young Adult
Goodreads

Azra has just turned sixteen, and overnight her body lengthens, her olive skin deepens, and her eyes glisten gold thanks to the brand-new silver bangle that locks around her wrist. As she always knew it would, her Jinn ancestry brings not just magical powers but the reality of a life of servitude, as her wish granting is controlled by a remote ruling class of Jinn known as the Afrit. To the humans she lives among, she's just the girl working at the snack bar at the beach, navigating the fryer and her first crush. But behind closed doors, she's learning how to harness her powers and fulfill the obligations of her destiny. Mentored by her mother and her Zar

Listicle: 8 Easter Eggs in Becoming Jinn
Like many authors, pieces of my life have a way of popping up in what I write. Some are unintentional, be it a theme or emotion or experience I've had that somehow sneaks in without my planning it. Others are very much intentional, things only I, or my close friends and family, would recognize.
While there are more, here are my top 8 "Easter Eggs" in Becoming Jinn.
The beach where Azra works is modeled after my favorite beach in Massachusetts: Crane Beach in Ipswich.
Henry's backyard pool and screened-in porch are based on the ones at the house where I grew up in New Jersey.
The demonic cat that Henry hates but his little sister loves is named after a particularly hellish creature that was my first pet: Slinky.
Mint chocolate chip ice cream is Azra's favorite, and mine too.
My high school boyfriend, like Nate, wanted to be an EMT or paramedic.
The first names of my husband's grandmother and my grandmother and grandfather are represented by Azra's neighbor, Eva, and her sister, Phyllis and her husband, Frank. Azra's human best friend was Jenny, which is the name of my sister.
The knickknacks on the shelves in Azra's living room are inspired by treasures brought home from my brother-in-law, who has lived abroad for most of his adult life. These include Moroccan tea cups, tribal masks from Ghana, and yarn from Ireland.
Azra refers to a "mermaid" book she's reading. That's a nod to the Syrena Legacy series by my editorial and agent sister, the fabulous and funny Anna Banks.
Bonus 9: Unintentional Easter Egg but cool coincidence (or fate?). I met a woman who has become an incredible critique partner and even better friend after I had finished writing the first draft of Becoming Jinn. That woman's name is Chelsea and her husband is Nate—two of the names of characters in Becoming Jinn!

 

Lori has been awesome enough to offer up more than one giveaway for this blog tour, so please make sure to enter both! 
US/Canada Only
a Rafflecopter giveaway
a Rafflecopter giveaway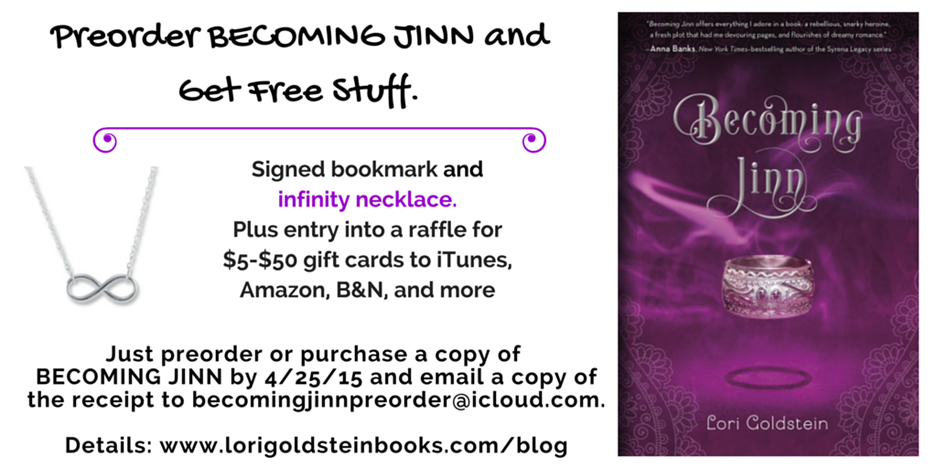 Related Posts