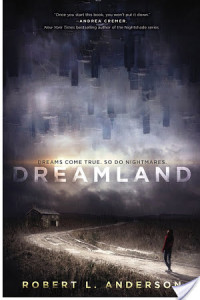 Dreamland

by Robert L. Anderson
Published by HarperCollins on September 22nd 2015
Genres: Fairy Tales & Folklore, Fantasy & Magic, General, Horror & Ghost Stories, Young Adult
Goodreads

From immensely talented debut author Robert L. Anderson comes a stunning, complex, and imaginative story about the fine line between dreams and reality that will appeal to fans of Maggie Stiefvater's The Raven Cycle.Odea Donahue has been able to travel through people's dreams since she was six years old. Her mother taught her the three rules of walking: Never interfere. Never be seen. Never walk the same person's dream more than once. Dea has never broken the rules.Then a mysterious new boy, Connor, comes to town. For the first time in her life, Dea feels normal. But both Dea and Connor have secrets, and as she is increasingly drawn to Connor's dreams—and nightmares—the boundary between worlds begins to deteriorate, putting everyone she loves in danger.
We are so excited to be part of the DREAMLAND blog tour!! We have the author here today with an interview and also a chance to win a hardcover copy at the bottom of the post! 

B: Tell us a little about what inspired Dreamland. 
R: I've always been interested in dreaming. Fun fact: I have crazy dreams, epic, long-lasting narratives that reference other dreams and earlier story lines. And I'm also interested in other-worlds, and portals through time and space, and monsters, and murder mysteries. So all the things kind of came together in the book. There was no specific aha moment.
B: Which of your characters do you most relate with? And why? 
R: Dea, easily. We're both outsiders who are pretty secure with ourselves, but that doesn't stop us from sometimes wondering what it would be like to click with everyone around us. Also, rule-breakers!
B: What is one of your favorite (non-spoilery) quotes from Dreamland? 
 
R: There is a fairytale that kicks off
Part Two I'm really proud of, but if I had to pick one line from other sections of the book I'd go with: "She had two friends now." I know it's simple and I should probably choose something lusher, but I was so happy writing that line for Dea.
B: Are there any scenes that you had to cut that were hard to let go of?
R: Scenes feel very hard to cut at the time, but I can barely remember any of them now.
B: What is the first book you remember falling in love with? 
R: Some Tolkien guy wrote a little series people seem to like. The name is escaping me, though…
B: If you could write a book with one author, who would you want it to be? 
R: Ransom Riggs! Neil Gaiman! Leigh Bardugo! Marie Lu! That was one author, right?
B: You can only eat one thing for the rest of your life, what would it be? 
R: Sicilian pizza



Are you excited for DREAMLAND?
Related Posts