Bookiemoji and author Karen Amanda Hooper
are celebrating together!
Karen is celebrating her new release
and Bookiemoji is celebrating our new blog. Yay!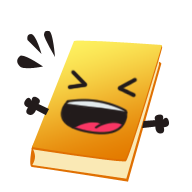 Eh-em… With that being said…
The fourth episode of VIRTUAL ARCANA by Karen is now available.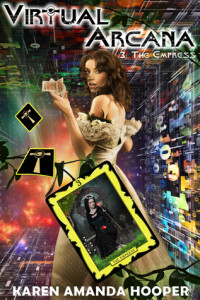 The Empress cover says it's book 3, but it's actually the fourth episode because this series starts with #0, The Fool. (FREE on all ebook retailers!) Yes, the numbering is a tad confusing, but the system is based on the major arcana cards of a tarot deck, which starts with #0… Ahh, the mystery of the tarot.
Haven't read the first few episodes of Virtual Arcana? …Here's the summary:
In a faraway future, Kelsey Zellar is starting her senior year at yet another school thanks to her twin sister's troublesome obsession with outlawed virtual reality games. Every school they've ever attended is pretty much the same: lunchroom drama, rich kids binging on enhancement candies, and classmates rallying for or against the government's strict control over everything from entertainment privileges to caffeine consumption. Unlike her sister, Kelsey follows the rules and keeps her nose out of trouble and politics while sniffing out her next flavored latte and favorite novel. But when Kelsey meets a charming book connoisseur, and accepts his offering of a tarot card, she takes the first step toward two new addictions: the guy of her dreams, and his illegal dealing of virtual escapes into her beloved storybooks. Kelsey straddles the worlds of fiction and reality, but is she a fool for believing in her own happy ending?
Intrigued? Read the first episode for free!
Amazon | Barnes & Noble | iTunes | Kobo | Google Play

Karen chose Bookiemoji as her VIP hostesses for this release.
That means you can only enter her first giveaway right here on our blog!
She is giving one lucky winner a Bookiemoji Party coffee mug (the large size!) in honor of Virtual Arcana's main character being a coffee addict. She's also throwing in a bag of Brookside pomegranate chocolate in honor of a drink concoction mentioned in the story. Plus, you can win an ebook of the newest episode, The Empress (or any other episode of your choice).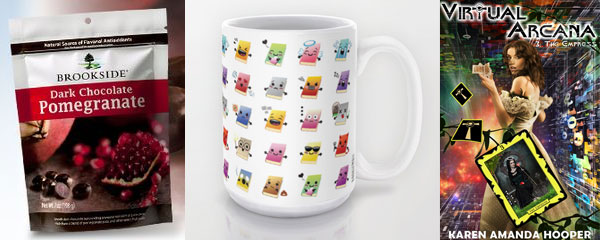 *Giveaway open until January 21, 2015. Void where prohibited.
Also be sure to enter the Grand Prize giveaway!
One lucky winner will receive a SIGNED copy of season 1
AND an awesome custom Virtual Arcana necklace.
*Grand prize will be awarded once all episodes of season 1 are released.
We have so many pent-up bookish emotions to share with you.
Have you started reading Karen's serial novels?
Have you ever read a novel in serial format?
Let us know in the comments below!
Related Posts