We are todays stop on the Under A Painted Sky Blog Tour hosted by PageTurnersBlog!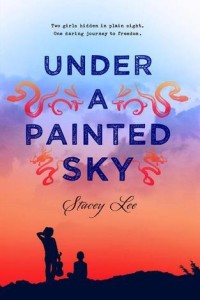 Under a Painted Sky by Stacey Lee
Published by G.P. Putnam's Sons Books for Young Readers on March 17th 2015
Genres: Action & Adventure, Adolescence, Country Life, Death & Dying, Diversity, Fiction, Friendship, Girls & Women, Historical, Love & Romance, Young Adult
Source: ARC from Publisher
Goodreads





I received this book for free in exchange for an honest review. This does not affect my opinion of the book or the content of my review.
A powerful story of friendship and sacrifice, for fans of Code Name Verity

Missouri, 1849: Samantha dreams of moving back to New York to be a professional musician—not an easy thing if you're a girl, and harder still if you're Chinese. But a tragic accident dashes any hopes of fulfilling her dream, and instead, leaves her fearing for her life. With the help of a runaway slave named Annamae, Samantha flees town for the unknown frontier. But life on the Oregon Trail is unsafe for two girls, so they disguise themselves as Sammy and Andy, two boys headed for the California gold rush. Sammy and Andy forge a powerful bond as they each search for a link to their past, and struggle to avoid any unwanted attention. But when they cross paths with a band of cowboys, the light-hearted troupe turn out to be unexpected allies. With the law closing in on them and new setbacks coming each day, the girls quickly learn that there are not many places to hide on the open trail.

This beautifully written debut is an exciting adventure and heart-wrenching survival tale. But above all else, it's a story about perseverance and trust that will restore your faith in the power of friendship.
I am so excited to be able to help out with this blog tour! I absolutely loved UNDER A PAINTED SKY! This is such a beautiful story, in a beautiful setting that focuses on character growth, friendships, diversity, and trusting in the people you love the most. This is definitely one I would suggest buying!

Could you share with us the significance of a 'painted sky' in the title?
The title comes from a line that Samantha's love interest, West, uses to describe a sunset.
Much like the beauty of a sunset lies in the contrasts; I very much wanted UNDER A PAINTED SKY to be a study in contrasts.
The first contrast is between Samantha, a city girl, and the Oregon Trail.  The Trail ran about 2,000 miles west from Missouri to the Oregon, and was the primary conduit for western expansion in the mid 19th century before completion of the Intercontinental Railroad.  The journey took about five months, and most of that was on foot, as riding in your wagon of supplies and belongings was a bumpy endeavor.  The journey was grueling and often perilous, as water wasn't always easy to come by and cholera was always a danger.  One out of seventeen people did not survive the journey.  You had to be tough, not just physically but mentally.  
My main character Samantha is not tough, she is a musician from New York.  I really liked the idea of putting her where she would be most uncomfortable – out in the wild –partly because I wanted to convince myself that a soft city girl like me could survive that, but also because I love stories about the indomitability of the human spirit. 
The second contrast is between Samantha, a Chinese girl, and her traveling companion Annamae, a runaway slave.  "Sammy" is cultured, and though not wealthy, her father gave her a classic education.  "Andy" is born into slavery on a plantation, and doesn't even have a last name.  Yet, Andy is smart in ways that Sammy is not, and that is what enables Sammy to survive her toughest moments.
The last contrast I want to mention is the differences in being girls vs. boys.  As a 'boy,' Sammy realizes she has to play by a whole new set of rules so that she doesn't give herself away.  She has to get back on the horn, as the cowboys say, every time she falls off.  She can't cry.  At the same time, being a 'boy' offers new freedom.  Sammy and Andy can do things like shoot a gun, walk where they want, and when they want, without confining skirts.  It's a new level of freedom.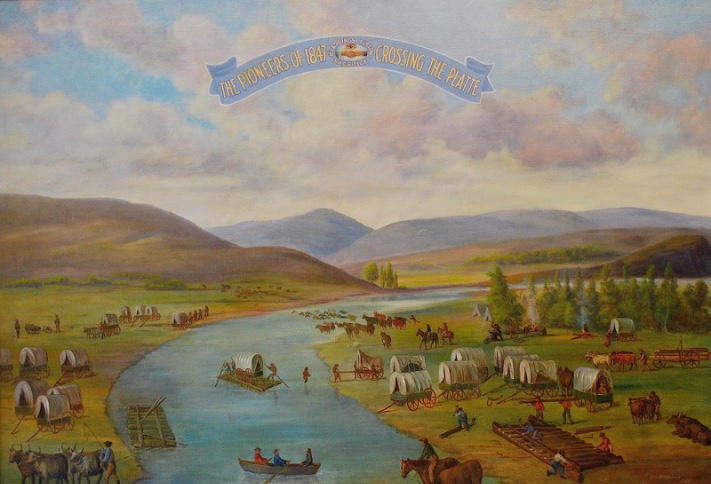 Picture caption: Crossing the Platte River by Dan Weggeland.  Often, wagons needed to be taken apart and floated across waterways, like the Platte River in Nebraska.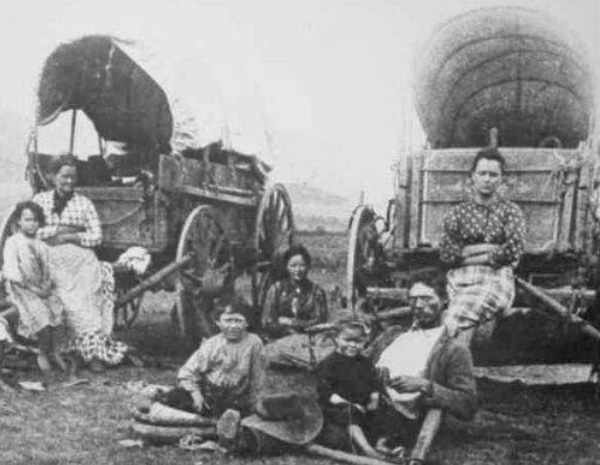 Picture caption: Pioneers on the Oregon Trail.  Don't those women look tough?


Page Turners Blog is hosting an Under the Painted Sky giveaway. Each stop will have a tour word that will give you an extra entry to win the grandprize.
Our tour stop word is
Violin
Related Posts