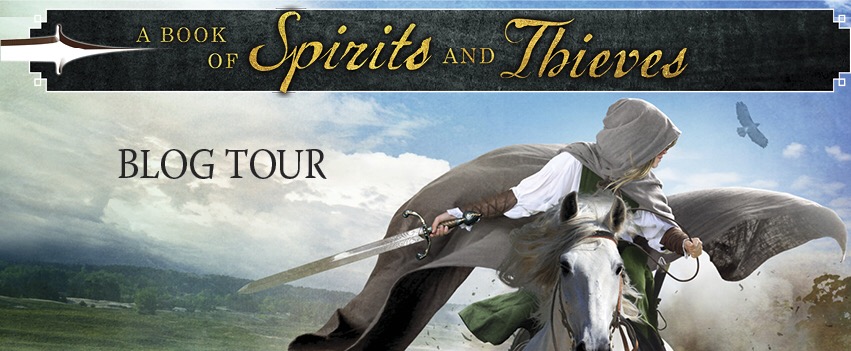 Welcome to today's stop on the A BOOK OF SPIRITS AND THIEVES blog tour!! We are so excited to share an awesome Q&A we did with Morgan Rhodes, plus Penguin has been kind enough to offer up a hardcover copy of this book for our followers! I'm such a huge fan on Rhodes' FALLING KINGDOM series, so I'm so excited for this spin-off series. 😀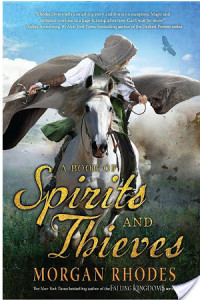 A Book of Spirits and Thieves by Morgan Rhodes
Published by Penguin on June 23rd 2015
Genres: Family, Fantasy & Magic, Legends, Myths, Fables, Other, Siblings, Young Adult
Goodreads

"...A modern day Outlander…filled with adventure and danger…a breathless tale that only Morgan Rhodes could tell."—Hypable New York Times bestselling author Morgan Rhodes takes readers into exhilarating new high-fantasy territory with A BOOK OF SPIRITS AND THIEVES, an epic contemporary saga perfect for fans of Sarah J. Maas and Diana Gabaldon's Outlander. The lives of Toronto teens Crystal and Becca Hatcher revolve around helping their mother out at the family's used bookstore, The Speckled Muse. It's a relatively uneventful after-school job, until an package arrives addressed to her mother, Julia. Thinking it's nothing more than run-of-the-mill inventory, Becca opens it and removes the book inside, unwittingly triggering an ancient magic and intertwining their fates with the powers that flow from the mysterious leather-bound book. Two parallel worlds collide and Becca is left in a catatonic state after her spirit is snatched from modern-day Toronto back to the ancient world of Mytica. Crys is guilt-ridden, having witnessed the entire event, and vows to do whatever is necessary to save her… but from what? Nothing has prepared them for what's in store.Written in alternating perspectives that shift between modern-day Toronto and the ancient kingdoms of Mytica, Rhodes delivers a rich and suspensful series opener that will leave readers breathless. From the Hardcover edition.

B:Â What made you want to do a spin-off of the Falling Kingdoms series?
MR: It's funny because I didn't originally intend on doing a spin-off. At all. I was perfectly happy writing the original series and maybe, in my spare time, writing something completely different. But when the muse talks to me, she usually yells. I had a few different ideas simmering in my head – a story about sisters, about a magical porthole to another world, about an unreadable book (inspired by the Voynich Manuscript). Once my imagination realized that book was from Mytica, everything fell into place and I knew I had to tell this story!
B: I think we will all gladly take more stories about Mytica ;P
B:Â Can you tell us what the time difference is between Falling Kingdoms series and this one? Is this a substantial time after Falling Kingdoms?
MR: Well, I would call A BOOK OF SPIRITS AND THIEVES more of a prequel and a companion, rather than a spin-off. Two-thirds of it is set in modern day Toronto and the remaining third is set in Mytica, a thousand years before the events in Falling Kingdoms. The tie between the series is that the myths and legends told in Falling Kingdoms, about the goddesses (among other surprises) are now being shown on the page – and readers can have an advantage over the FK characters in that they will see what is truth and what's only lies.
B: Is there any scene that you had to cut that you wish you didn't?
MR: I rarely cut a scene and regret cutting it. If something is cut it's for a very good reason – to make the story work better. In the original draft, I had introduced a threat in modern-day chapters, humans infected with a dark magic that made them very deadly. In the end, this was only a distraction from the main storyline so I axed it.
B:Â Who is your favorite character in this new series? Why?
MR: I enjoy writing about all of the characters, but if I need to pick a favorite it would be Maddox. Maddox is, essentially, a ghostbuster in medieval-esque Mytica who is forced by his cruel guardian to perform spirit vanquishings for money. For all of his dark and mysterious powers, Maddox is so sweet and earnest and wears his heart on his sleeve. I (almost) feel sorry making bad things happen to him! 😉
B:Â What is the most unusual word you can recall misspelling in a manuscript? What words do you commonly get wrong?
MR: Common words, really. I cannot for the life of me spell "cemetery" or "irrelevant" correctly the first time. Also "murmured" is a problem for me. Thankfully, there's spellcheck!
B:Â If you could write a book with anyone, dead or alive, who would you choose?
MR: I would love to write a book with JK Rowling, Stephen King, or Richelle Mead.
B: I love this answer! Mead and Rowling are two of my absolute faves so that would be EPIC!
B:Â If you had to eat ONE food for the rest of your life, what would it be?
MR: Tough question. Pizza? Yes, definitely pizza.
B: Pizza would definitely be a contender for my pick also! 
Q: If someone dared you to write "book nerd" on your forehead while wearing your favorite pajamas – and then share a photo of it – would you do it? (If so, we double dog dare you to do it and share it with us right here!) 😉
MR: Hahahaha. You first!!
B: Touche ;P


US ONLY
Publisher Hosted
Good Luck!!
Related Posts