Today at Bookiemoji we are talking about Banned Books as part of Random House Banned Books Blog Tour!
Find out more info about Banned Book Week here.
We are featuring a book that was very special in my childhood. I grew up reading Judy Blume books and absolutely loved them!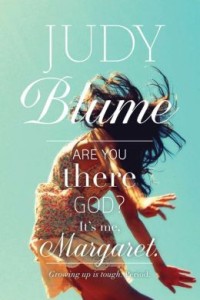 Are You There God? It's Me, Margaret. by Judy Blume
Published by Simon and Schuster on April 29th 2014
Genres: Adolescence, General, Girls & Women, Religious, Social Issues, Young Adult
Source: Finish Copy from Publisher
Goodreads

Margaret shares her secrets and her spirituality in this iconic Judy Blume novel, beloved by millions, that now has a fresh new look.Margaret Simon, almost twelve, likes long hair, tuna fish, the smell of rain, and things that are pink. She's just moved from New York City to Farbook, New Jersey, and is anxious to fit in with her new friends—Nancy, Gretchen, and Janie. When they form a secret club to talk about private subjects like boys, bras, and getting their first periods, Margaret is happy to belong. But none of them can believe Margaret doesn't have religion, and that she isn't going to the Y or the Jewish Community Center. What they don't know is Margaret has her own very special relationship with God. She can talk to God about everything—family, friends, even Moose Freed, her secret crush. Margaret is funny and real, and her thoughts and feelings are oh-so-relatable—you'll feel like she's talking right to you, sharing her secrets with a friend.

Instead of really doing a typical review, this is going to be more of a discussion about this book and my thoughts on banning books.
I grew up on Judy Blume. I think most kids can just really relate to her books and her characters. This book is one that I feel is relate-able to most girls going through puberty and trying to understand themselves. I think it is a great read for a young girl and I really can not wrap my head around the fact that there are people out there that felt it was inappropriate. But I also can't wrap my head around the fact that Harry Potter caused a stir either, so…..
The thing about books are that no matter how YOU may feel about one, someone else out there is totally relating to that book and those characters. Some kid out there is in THAT situation and needs to read about it, no matter if someone finds it inappropriate or not. The truth is kids find themselves in awkward, inappropriate situations that are hard for them to understand every day. The world isn't all rainbows and sunshine like a lot of teachers or parents think it is for the kids and they sometimes need a book that goes beyond to feel like someone just gets it. Gets them, and what they are going through.
I'm in the south and I can tell you right now if I were to take LGTBIA books or fictional books of another religion except Christianity to our local libraries or try to donate them to the local highschool libraries they would be denied. Why? Because I can guarantee you that some parent would find this content offensive. Same goes for anything that involved sex, or profanity. There will always be people that are offended and that will want some kind of censorship over kids and what they read, which in reality the books are nothing compared to the every day world.
I have 3 kids. My daughter is the oldest and she is 9, soon to be 10. THIS specific book is one that I have set aside for her to read when she starts getting to that stage. The content is not in anyway inappropriate. The way Margaret feels about going through puberty, her friends, and even religion is something I distinctly remember feeling when I was a kid at that age. The worries that your friends will be mature before you are, and that you will feel left behind. The way she bargains with God, but doesn't quite understand what she's doing. I see how this book could help a young girl when her body is changing and just help her feel like she's not alone. Why anyone ever felt it should be kept away from a child is beyond me.
Make sure sure to follow along the rest of the week:
Sunday, September 27
Monday, September 28
Tuesday, September 29
Wednesday, September 30
Thursday, October 1
Ex Libris

–

Blood and Chocolate

by Annette Curtis Klause
Friday October 2
Saturday, October 3

Random House is going to giveaway a copy of this book.
US Only
Comment to enter, ends 10/3 🙂

How do you feel about Banned Books? Do you have a favorite?
Related Posts