Make it a Movie (MiaM) is a feature post that is being carried over from my previous blog, Jenna Does Books. This is my way to discuss the books I wish would be made into a movie.
You can join in the fun, too! Want to make a movie out of your favorite books? Feel free to do the same on your blog, and be sure to link your post in the comments below so that we can all visit! You are open to talk about any book out there in any way that you want. For example: Who would you have play the leads in the movie? Who would direct? Would it be animated or live action? What would the film poster look like? etc. (Don't forget to use the hashtag #MiaM when you share your post on social media and also link back to Bookiemoji!)
This week my meme will focus on THE ORPHAN QUEEN by Jodi Meadows. I have to admit, this is currently my favorite young adult novel out there. In this post I've not only cast the roles of my two favorite leading characters, but I also created a movie poster! Goodness knows that someday I hope to see this book on the big screen…
Let me know what you think of my cast in the comments below!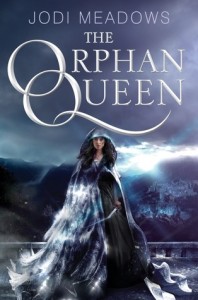 The Orphan Queen

by Jodi Meadows
Published by HarperCollins on March 10, 2015
Genres: Action & Adventure, Fantasy & Magic, Love & Romance, Young Adult
Buy the Book • Goodreads

Wilhelmina has a hundred identities.

She is a princess. When the Indigo Kingdom conquered her homeland, Wilhelmina and other orphaned children of nobility were taken to Skyvale, the Indigo Kingdom's capital. Ten years later, they are the Ospreys, experts at stealth and theft. With them, Wilhelmina means to take back her throne.

She is a spy. Wil and her best friend, Melanie, infiltrate Skyvale Palace to study their foes. They assume the identities of nobles from a wraith-fallen kingdom, but enemies fill the palace, and Melanie's behavior grows suspicious. With Osprey missions becoming increasingly dangerous and their leader more unstable, Wil can't trust anyone.

She is a threat. Wraith is the toxic by-product of magic, and for a century using magic has been forbidden. Still the wraith pours across the continent, reshaping the land and animals into fresh horrors. Soon it will reach the Indigo Kingdom. Wilhelmina's magic might be the key to stopping the wraith, but if the vigilante Black Knife discovers Wil's magic, she will vanish like all the others

Jodi Meadows introduces a vivid new fantasy full of intrigue, romance, dangerous magic, and one girl's battle to reclaim her place in the world.

I had so much fun making this poster! It was a real challenge combining the various photos and getting the lighting just right. I love a good challenge. I also loved imagining what Black Knife might look like under his mask…
Oh! And look closely at the poster. You may even find a few little hints here and there as to possible events and locations in the book!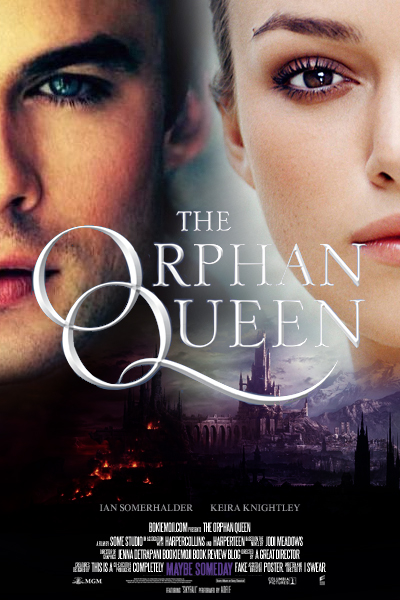 Wilhelmina – Keira Knightley
Wil is the orphan princess of a once prosperous kingdom. She and the other surviving youth of her kingdom vow to one day reclaim their birthright. Unfortunately, Black Knife, the Indigo Kingdom and the wraith stand in their way…
Keira Knightley has the spunk and regal poise of someone in Wil's position. And we already know she can kick but in a sword fight and other action sequences. Better yet, she can still very easily pass herself off as a young woman ready to gain the throne. Keira is best known for her role as Elizabeth Swann in the first Pirates of the Caribbean trilogy, Anna Karenina, Elizabeth Bennet in Pride & Prejudice, Begin Again and Atonement.

Black Knife – Ian Somerhalder
Black Knife is a vigalante. He is out to stop criminals and magic-users in Skyvale. He is enemy of the Ospreys and all that they stand for…. or is he?
Ian Somerhalder has the perfect lopsided grin, the seductive eyes and the personality to fit Black Knife to a tee. I cannot help it. I want this guys to be my Black Knife. Ian is best known for his television role as Damon Salvatore in The Vampire Diaries on The CW. He's also appeared on Lost and Smallville. He is less known for his film roles, which include The Anomaly, How to Make Love to a Woman and Life as a House.


So… What did you think of my poster and casting choices?
If you decide to make your own post this week, please add
the URL in the comments below. (Please link directly to
the post URL and not your blog URL!)
Related Posts