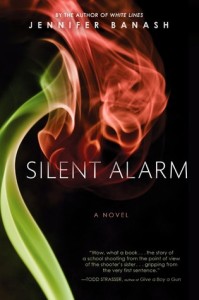 Silent Alarm by Jennifer Banash
Published by Penguin on March 10, 2015
Genres: Death & Dying, Family, Social Issues, Violence, Young Adult
Source: Finish Copy from Author
Buy the Book • Goodreads






I received this book for free in exchange for an honest review. This does not affect my opinion of the book or the content of my review.
Alys's whole world was comprised of the history project that was due, her upcoming violin audition, being held tightly in the arms of her boyfriend, Ben, and laughing with her best friend, Delilah. At least it was—until she found herself on the wrong end of a shotgun in the school library. Her suburban high school had become one of those places you hear about on the news—a place where some disaffected youth decided to end it all and take as many of his teachers and classmates with him as he could. Except, in this story, that youth was Alys's own brother, Luke. He killed fifteen others and himself, but spared her—though she'll never know why.



Alys's downward spiral begins instantly, and there seems to be no bottom. A heartbreaking and beautifully told story.
---

Silent Alarm is a novel for our time. A time when children are given the opportunity to decide whether or not their peers are worthy to live. A time when not only are earthquake or tornado drills a norm in our schools, but now students are routinely practicing lock-downs (even in elementary school settings) so that each child is prepared for the "worst case scenario". This is not a situation any parent ever wants to imagine their children being in – on either side of the weapon.
Silent Alarm presents to readers a school shooting situation where the main character is the "villain's" sister. Alys is a character who reminds me very much of Mia from If I Stay. She is a violin prodigy finishing her final years of high school. The book reads from her point of view – from the opening pages in the library, where she is confronted with a school shooter who just-so-happens to be her brother, Luke, to the aftermath, where she and her family are the target of the media and the finger-pointers/blame-seekers in their town. We watch as she loses sight of her role in her brother's shooting and in her dreams for the future. Instead, her life has stopped at precisely the moment her brother put a gun to her head and didn't pull the trigger.
"It feels like I died with Luke, alongside all of those kids who looked up from gossiping in the quad, from the useless pages of their books in the library, to meet the barrel of my brother's gun, his face filled with hate. In a way, I died the moment Luke walked into that library, the moment we came face-to-face. Now I'm trapped in the land of the dead, a barren landscape, shards of bone cutting my feet, their voices a soft chatter, telling me to follow."
Silent Alarm is in undoubtedly a very difficult book to read, but at the same time it is also a beautiful and insightful novel. The narrative weaves in and out of present tense exposition, Alys's inner-thoughts, the media reports and Alys's "perceptions" of the truth. As Alys's world becomes darker, and she falls to the point of hallucinating the presence of her brother and his victims all around her, so, too, does the narrative become darker, more introspective and beautifully… emotionally… insightful.
"The choir box is empty this morning, and I long for some kind of melody, the crash of the organ, the flight of angelic voices. My fingers twitch against the fabric of my dress and I close my eyes, remembering the Debussy, the Brahms lullaby I played each night before bed, my face pressed to the pad beneath my chin, arms cutting the air around me. The fact that Luke doesn't deserve music, the blissful lilt and salvation of it, make me, for some reason, saddest of all."
Alys questions her brother's motives. She questions how well she knows those around her (not limited to just her brother). She struggles to move on as the world around her collapses. Because of her brother, Alys risks severing the relationships she has built with her boyfriend, her best friends, even her own family. Being inside Alys's mind is a difficult task, but it is important that the reader follows through to the very end – because the author manages to shine a light through this dark part of our society. She makes us think about how the media turns every situation into a sensationalist story and how these stories affect society's opinion as a whole. She makes you feel for those left behind after such heinous acts. In Silent Alarm we ask: What becomes of the mother of the boy (or girl) who shot their peers down? What about their father? Or their sister, who must still walk the halls of their school? I've never given this angle much thought – until now.
"I'm sorry,' I say for what feels like the millionth time. I know, even as my mouth forms the words, that I will say them for the rest of my life. Forever. That there will never be a time when I am not, in some small way, apologizing for the damage my brother has wrought."
I do believe that fans of If I Stay (or any of Gayle Forman's books), Katie McGarry's books or Forgive Me, Leonard Peacock by Matthew Quick will flip through these pages with fervent ease. Other readers will appreciate the writing, the possibility of romance and the emotional story. I wish that, if anything, Silent Alarm will inspire readers to look at others with more compassion – seeking ways they can help those who need it the most.

Silent Alarm is an emotionally raw and effective novel that provides an oftentimes ignored perspective in a fearful and catastrophic event of our era.
Do I think you should read this? YES.
In fact, I think all of our young people should be required to read it.
Five tearful emojis
---


Let's talk in the comments below!
Related Posts