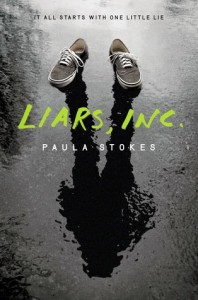 Liars, Inc. by Paula Stokes
Published by Harper Collins on March 24, 2015
Genres: Family, Love & Romance, Mysteries & Detective Stories, Orphans & Foster Homes, Young Adult
Buy the Book • Goodreads






I received this book for free in exchange for an honest review. This does not affect my opinion of the book or the content of my review.
Max Cantrell has never been a big fan of the truth, so when the opportunity arises to sell forged permission slips and cover stories to his classmates, it sounds like a good way to make a little money and liven up a boring senior year. With the help of his friends Preston and Parvati, Max starts Liars, Inc. Suddenly everybody needs something and the cash starts pouring in. Who knew lying could be so lucrative?

When Preston wants his own cover story to go visit a girl he met online, Max doesn't think twice about hooking him up. Until Preston never comes home. Then the evidence starts to pile up—terrifying clues that lead the cops to Preston's body. Terrifying clues that point to Max as the murderer.

Can Max find the real killer before he goes to prison for a crime he didn't commit? In a story that Kirkus Reviews called "Captivating to the very end," Paula Stokes starts with one single white lie and weaves a twisted tale that will have readers guessing until the explosive final chapters.
---

An outstanding suspense thriller/mystery that actually did have me guessing until the very end (as promised in the book summary above). Yup, in this case they actually speak the truth in the blurb, even though the book is about a bunch of big, fat liars. Me so punny.
I am SO GLAD that not everything in this book is a lie, although… heh…  almost ALL of it is. There are red herrings all over the place. But, thankfully, none of them are overtly obvious (which is the sign of a good mystery, if you ask me). Liars, Inc. is a mix between Gretchen McNeil meets I Hunt Killers meets Double Jeopardy. What starts out as a seemingly typical high school drama quickly progresses into a trilling sprint across multiple landscapes. The book had me guessing with every turn of the page – and when I thought I'd figured out the truth, the plot would go ahead and flip me for a loop. Then came the second (or third or fourth) moment when I thought I'd put all the pieces together and had the outcome all figured out – and I actually got it right! – that moment was AWESOME. And I'm so glad it came as late in the novel as it did.
The characters are the sort that you love to hate to love. Many of the red herrings in Liars, Inc. stem from how you feel about the characters at any given moment. Initially, as a reader, you won't know what to think about Max. He seems like a typical teenage guy, albeit with a questionable taste in friends. Parvarti and Preston both come across as stuck up, self-obsessed and T-R-O-U-B-L-E. Instant distrust, yes? These initial reactions to the characters sets the stage for a very twisty mystery and some surprising character development. I cannot say how my personal feelings about the characters evolved as I read, nor where they each stood in the end, but just know that Paula can juggle both a suspenseful plot AND character growth with ease and impressive skill.
Be sure to carve out some time to read this book, too. The plot is so twisty and bendy and addicting that, once the lies start building up (and up and up), you'll have an extremely hard time putting the book down until you find out what the bejeebus is going on!
I never knew I could like a suspense novel as much as I did Liars, Inc. – because honestly? Typically I don't… Most books in the "suspense" genre just bore me to DEATH, and I tend to guess the outcome fairly early-on. (Even though I am much more naive than the average being with a human-sized brain.) …But not with Liars, Inc. This book is a winner, through and through.

I can officially say that I now LOVE being thrown for a loop! If you do, too, I encourage you to keep Liars, Inc. on your radar – in fact, order it today!
Five
hold onto your socks

 emojis!
---



Enter to win a signed copy of LIARS, INC (US only)
or a pre-order from The Book Depository + a signed bookplate (Intl.)
Open internationally to those aged 13 and older only. Void where prohibited.

Let's talk in the comments below!
Related Posts