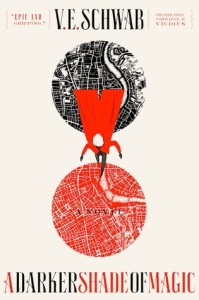 A Darker Shade of Magic by Victoria Schwab
Published by Macmillan on February 24th 2015
Genres: Action & Adventure, Adult, Fantasy, Fantasy & Magic, Historical
Source: ARC from Publisher
Buy the Book • Goodreads






I received this book for free in exchange for an honest review. This does not affect my opinion of the book or the content of my review.
Kell is one of the last Travelers—rare magicians who choose a parallel universe to visit.

Grey London is dirty, boring, lacks magic, ruled by mad King George. Red London is where life and magic are revered, and the Maresh Dynasty presides over a flourishing empire. White London is ruled by whoever has murdered their way to the throne. People fight to control magic, and the magic fights back, draining the city to its very bones. Once there was Black London - but no one speaks of that now.

Officially, Kell is the Red Traveler, personal ambassador and adopted Prince of Red London, carrying the monthly correspondences between royals of each London. Unofficially, Kell smuggles for those willing to pay for even a glimpse of a world they'll never see. This dangerous hobby sets him up for accidental treason. Fleeing into Grey London, Kell runs afoul of Delilah Bard, a cut-purse with lofty aspirations. She robs him, saves him from a dangerous enemy, then forces him to another world for her 'proper adventure'.

But perilous magic is afoot, and treachery lurks at every turn. To save all of the worlds, Kell and Lila will first need to stay alive — trickier than they hoped.
---

When considering both A DARKER SHADE OF MAGIC and Vicious, it's hard to pick a favorite. I think this new series by one of my all-time favorite authors did the impossible by rising just above her debut adult novel. Hard to say, though, because although both books share the underlying theme of "good" and "evil" and the idea that humanity exists somewhere between the two, they are still two entirely different types of stories. Not to mention, A Darker Shade of Magic is infinitely more complex – not to mention, terrifying.
I won't give too many details. But you should know is that what Ms. Schwab did for super heroes and super villains, she also does for many-layered worlds and magic… and then some. As I read, her characters and world(s) rolled right off the pages and into my imagination. Few stories released these days can compare to those brought to life by the endlessly creative and masterfully talented mind of Victoria Schwab.


The world-building in A Darker Shade of Magic involves a relatively small but highly complex multi-verse. The only connection between each world are the "rips" or "seams" that are created by those who are in possession of a greater magic. Only two entities in all the worlds can create the doors that allow them to travel between the worlds – one of these rare entities is the main character, Kell. Oh, and get this: one world is completely devoid of magic, another thrives and flourishes with its use, another is falling apart at the seams (for reasons I will not say), and the last world is completely consumed by darkness. Each world is distinguished by the colors that dominate that physical world (i.e. Grey London, Red London, White London and Black London). Confused yet? Not to worry! Victoria is a master of both her words and worlds and you'll get the hang of it in no time! You'll likely find yourself looking for similarities to our world! …Well, except that it all feels very "1800's"-ish, so maybe not. But you will get a peek at which world (or worlds) is most like our own.
The characters are as good as any created by Ms. Schwab. Much like I have a hard time choosing a favorite adult book (it's decided – I choose both!) I also cannot choose between Victor (from Vicious) or Kell. They're both charismatic, solitary men, yet they each have their own unique traits and faults. There must be something about me and a man in a long coat, because these two are among my favorite fictional men ever. I have to give Kell some props though, because when it comes to having clear personal morals, he tops Victor from the very beginning. But Kell also has his secrets that you'll have to read to find out. Kell is nearly overshadowed when Lila takes the scene, though. Much like Vicious has his own mischievous "sidekick", Kell, too, gains some "extra baggage" on his journey. Snarky, tough-as-nails and used to living the hard-knock life, Lila will most likely be the character that will have people talking.
The magic is superbly presented in this book. Not only is it logical and perfectly explained, but you get to see multiple levels of its use in each world. You also get to see how magic can be used for both good and bad, and the sacrifices or repercussions of its use. I'll admit, some of A Darker Shade of Magic's more "adult" scenes involve dark uses of magic. It's a gruesome thing to behold in some worlds, and when the multiple worlds begin to bleed together, you get to see how it becomes even darker and imbalanced. Magic is woven in each and every page of this book, often in ways you have never seen before… But I must stop there. (Ahhh, just thinking about the magic and its implications with the plot makes me want to read this book again!!)
The villains are so very terrifying in this story. I like it best when you don't  know exactly what face evil will take. The lines between "good" and "evil" are beyond blurred in A Darker Shade of Magic, more-so even than in Vicious. Though I fear I may be approaching "punny" territory here, evil isn't just "black" and "white" in this book, it's more like a shade of… grey. If that's the color you like use to describe your favorite stories and characters, then A Darker Shade of Magic is the book for you!


Call me a blind fan-girl, but I cannot for the life of me find anything wrong with this book.
Any-thing.

A Darker Shade of Magic provides an exhilarating world (er, worlds) full of the kind of magic that will leave its mark. No life, be it good or evil, will be left untainted in the end. Perfect for readers who like their magic a bit on the dark side. (Ha, see what I did there?)
Five
darker shades of magic

 emojis!

(Look! I can do magic, too!)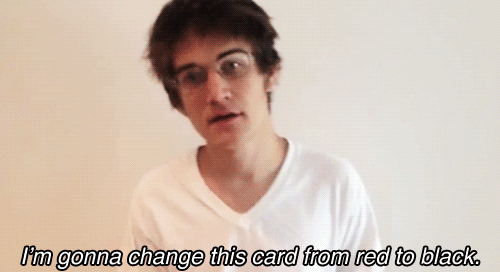 ---


Tell us what you think of the book or my review in the comments below!
Related Posts